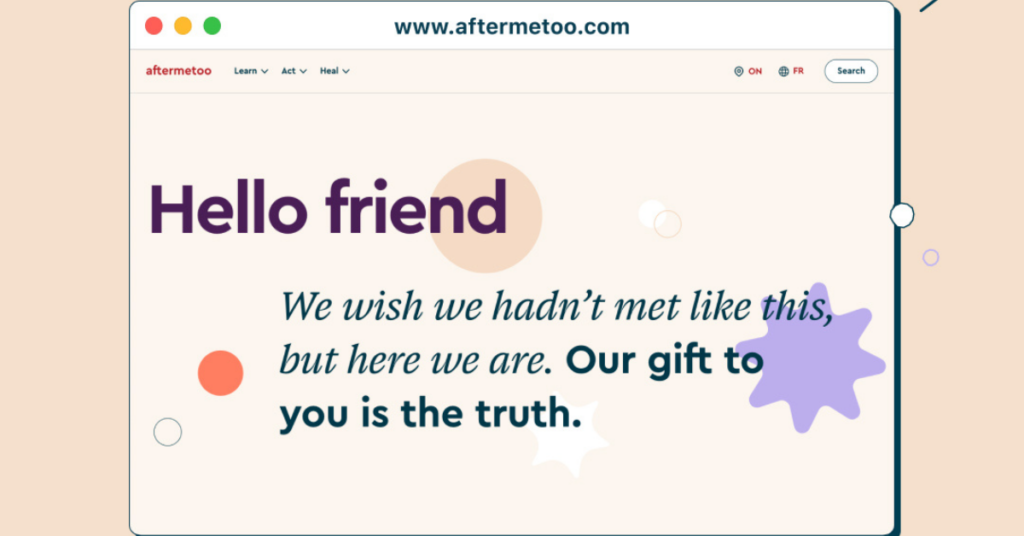 Experiencing sexual harassment at work can be confusing and isolating. It's often difficult to know where to find information and support. It can be even harder for people who are more vulnerable because of their identities or precarious jobs, like in the food service sector.
With the help of a Responsive grant from The Law Foundation of Ontario, the Canadian Women's Foundation and Aftermetoo (formerly Rosa) partnered to develop a comprehensive online public legal education resource for people facing workplace sexual harassment.
The website – Aftermetoo.com – focuses on three areas: Learn, Act, and Heal. Each section has practical and plain language articles that offer legal and other information to help people understand the issues and consider options or steps that can be taken. The website also has a resources section that includes research, trainings, a glossary, and support organizations.
The website was developed through extensive research and partnerships, including surveys and interviews with people who experienced workplace sexual harassment and in collaboration with the Barbra Schlifer Commemorative Clinic and legal professionals with experience in the area.
"We say that Aftermetoo was made with love, and we mean that," says Anuradha Dugal, Vice President, Community Initiatives at the Canadian Women's Foundation. "This resource was designed to reflect the experiences and voices of those who faced sexual harassment in the workplace. It was really important for survivors to see themselves in the materials, and we hope they see that across the website."
With funds from the Government of Canada's Workplace Harassment and Violence Prevention Fund and the Justice Partnership and Innovation Program, Aftermetoo.com's information extends beyond Ontario to each province and territory in Canada, and is available in French.
Visit Aftermetoo.