Found 120 results
November 11, 2019
Meet the 2019-2020 Public Interest Articling Fellowship participants: André Capretti; Jaya Élise Bordeleau-Cass; Ashley Reya Dhandhari; Vanessa Poirier; J.Y. (Jianyang) Hoh; Rebecca Dillon; Michelle Soucy; Aubrey Abaya
November 4, 2019
Watch a video of Pamela Cross' Guthrie Award speech and see photos on Facebook from her Guthrie Award Reception celebration.
November 1, 2019
Catalyst grant helps the Ontario Justice Education Network engage more young people, including French-speaking youth across Ontario.
October 7, 2019
The Foundation's Catalyst grant supports the John Howard Society of Ontario in its civil legal needs assessment initiative.
September 30, 2019
The Law Foundation of Ontario and the Class Proceedings Committee are pleased to announce that Remissa Hirji has joined as our first Associate Counsel.
September 17, 2019
We participate in LAWS' Summer Job Program and this year we were joined by Makayla. Here are some of her reflections of her time working with us.
September 11, 2019
The Law Foundation of Ontario is pleased to announce that the 2019 Guthrie Award recipient is women's rights advocate, Pamela Cross.
September 3, 2019
CERA developed resources for community workers to help them support clients with environmental sensitivities in rental housing.
The Law Foundation of Ontario Catalyst granting is helping Luke's Place to expand its services, including the Virtual Legal Clinic.
August 20, 2019
Catalyst granting from The Law Foundation of Ontario is helping FCJ Refugee Centre extend its services and outreach.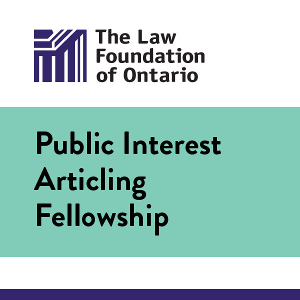 Meet the 2019-2020 Public Interest Articling Fellowship participants: André Capretti; Jaya Élise Bordeleau-Cass; Ashley Reya Dhandhari; Vanessa Poirier; J.Y. (Jianyang) Hoh; Rebecca Dillon; Michelle Soucy; Aubrey Abaya
Read More