The Law Foundation of Ontario logo is a significant symbol of our brand and reputation. To maintain its integrity, please learn the guidelines of when and how to use the logo.
Preferred or 'Primary' logo
Alternate logo
No revisions
Brand Guide
Get the logo
Preferred or 'Primary' logo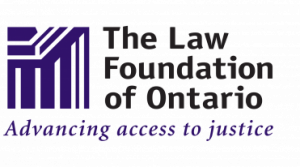 As described and shown in the Visual Identity Guide, the preferred logo to be used is the coloured logo with the Foundation's tagline included. We call this the 'Primary' logo. The logo file is named "LFO_E_Colour_Tag" (and "LFO_F_Colour_Tag" in French) in the logos package zip file.
The Primary logo (logo with the tagline) should be in used in all places, with one exception. The logo with the tagline should never be reproduced smaller than 1.5" wide for print applications or 150 pixels wide for digital applications. Although not recommended, if you must reproduce The Law Foundation of Ontario logo at this small of a size, use the Alternate logo, i.e. the logo without the tagline.
In addition to the Colour logo, you also have the option to use Black, Reverse Black, or Reverse Colour. The version you use is your choice and left to your discretion of what looks best and best suits your material.
Get the logo
Download a zip file of The Law Foundation of Ontario logo.
It contains all versions of our logo available, including English and French and digital (jpg, png) and print-quality files (eps) and the Brand Guide.