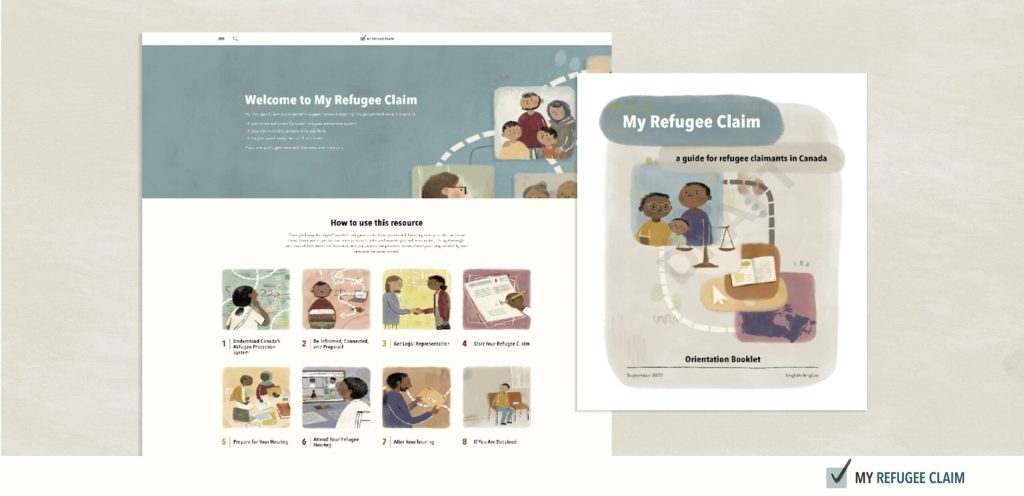 Kinbrace Community Society recently launched My Refugee Claim, a national resource to help refugee claimants navigate Canada's refugee protection process. Based in Vancouver, BC, Kinbrace provides people in Canada's refugee protection system with housing, orientation, accompaniment, and education.
"The pandemic led to significant changes in the refugee determination process," explains Loren Balisky, Kinbrace's Director of Engagement. "It created the opportunity for us and our partners to imagine a comprehensive public legal education and information (PLEI) resource designed with and for refugee claimants that is discoverable and accessible and explains the entire refugee protection process. We also dreamed of a resource that is easy to update and manage."
My Refugee Claim is created and delivered by frontline workers, legal experts, and people with refugee claimant experience. It has 2 components:
A website designed from the refugee claimant perspective that gives a clear explanation of refugee law and the complex processes associated with Canada's refugee protection system, delivered in comprehensible steps.
An illustrated and easy-to-print Orientation Booklet that provides an overview of Canada's refugee protection process.
My Refugee Claim builds on the successful 2010 Refugee Hearing Preparation (RHP) Guide series, a project that was partially supported by The Law Foundation of Ontario. The new resource is a consolidation and major expansion of six regional RHP Guides. Like the original guides, the next planned phase of My Refuge Claim is to make it available in multiple languages.
Creating this resource was a highly collaborative effort involving former refugee claimants and legal and refugee-serving professionals from across the country, including the United Nations High Commissioner for Refugees (UNHCR) Canada and over 20 organizations from Alberta, British Columbia, Manitoba, Ontario, and Quebec. It was also supported by several funders. It received a Responsive grant of close to $100K from The Law Foundation of Ontario as well as funding from the Alberta Law Foundation, The Houssian Foundation, The Notary Foundation, and UNHCR Canada.
"We are very pleased with My Refugee Claim," says Balisky. "We feel we have created – with partner agencies across the country – a PLEI resource that will fundamentally change the refugee claimant's experience of their journey through Canada's refugee protection process."
Visit My Refuge Claim.