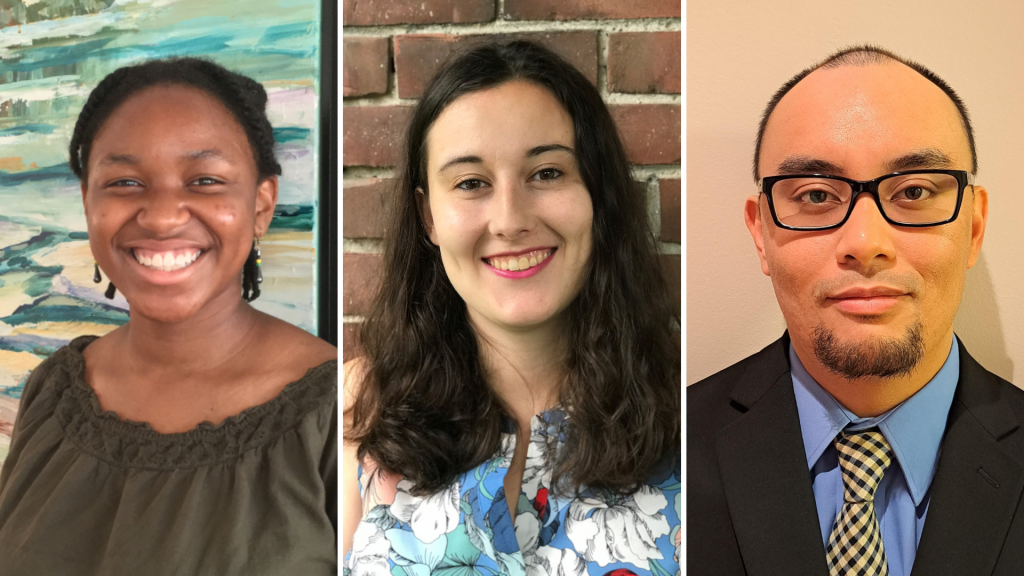 The Foundation benefitted from an influx of new ideas and energy this summer thanks to three students working with us: Jenel Jackson, Rachael Simser, and Alex Traballo.
Eighteen-year-old Jenel was part of the Law in Action Within Schools (LAWS) program. LAWS is an education program designed to support, guide, and motivate high school students to success by exposing them to law and justice through workshops, mentorship, and employment programs. The Foundation has provided grants to LAWS since 2005 and consistently hosts a Summer Job Program student each year.
Over her four-week placement with the Foundation, Jenel had the opportunity to work with each of the different teams at the Foundation. She supported the finance, granting, and Class Proceedings Committee staff with a variety of administrative and research tasks. She learned about mixed trust accounts, legal services across Ontario, how groups apply for grants and class actions funding, and how these funding decisions are made. Jenel also had tours of the Legislative Assembly and Toronto Courthouse – and lots of practice with Excel!
"My favourite part of working with the Foundation was the one-on-one meetings I did with many of the staff," said Jenel. "I received excellent advice from all these lovely people. All come from various backgrounds, but all are similar to the one I want to pursue, by studying humanities. It was wonderful to hear about their work and university experiences before coming to the Foundation. It's nice to know that even after you start your career, it's still just the start of another journey."
Hear more about Jenel's experiences in her reflections article. Jenel exceeded everyone's expectations here at the Foundation. We know her intelligence and work ethic will bring her great success at her first year of university!
Building on the success of our inaugural law student summer program in 2021, the Foundation was pleased to welcome two law students this summer. Rachael Simser and Alex Traballo are both JD Candidates from Osgoode Hall Law School.
Supporting legal education is one of the Foundation's statutory objects under the Law Society Act. We primarily do this by providing funding to the Ontario law schools for programs related to access to justice, in particular experiential learning opportunities for students that also respond to the legal needs of the local community.
Rachael, going into 2L, is the first law student hired to support the Foundation's grants team. Her summer was primarily dedicated to research projects, including a deep exploration of the Foundation's history in preparation for our 50th anniversary in 2024. She also developed materials and participated in numerous grants meetings and discussions.
"My time here has given me further insight into what public interest legal work can look like, and how I want to shape my career moving forward," said Rachael. "The Foundation, and all the wonderful staff who work here, have shown me that a career in law that centres around public interest is not only possible, but can also include supportive colleagues and management, challenging and stimulating work, and an end result that helps support access to justice within the province."
Alex, going into 3L, spent the summer supporting the work of the Class Proceedings Committee. He conducted research into class actions in Ontario and into the Class Proceedings Fund itself, uncovering important insights into the work of the Fund to date. He also attended and helped prepare materials for the Class Proceeding Committee hearings, gaining an inside look at the processes of applying for and assessing applications to fund class actions.
"The Committee's staunch dedication to funding litigation to promote access to justice and the public interest helped me appreciate the high-stakes role that class actions play in the legal field and how litigation funding through the Fund can truly break down barriers for classes of plaintiffs who would not otherwise be able to access the judicial system," Alex said. "I'm grateful to have had the opportunity to spend my summer in support of this important work
Learn more about the law students' experiences; read Rachael's article and Alex's article reflecting on their work with the Foundation. Rachael and Alex have contributed so much to the Class Proceedings Fund and the Foundation in such a short time! We're so pleased they have agreed to stay in a part-time role while continuing their studies at Osgoode Hall Law School.
We extend a heartfelt thank you and best of luck to Jenel, Rachael, and Alex!