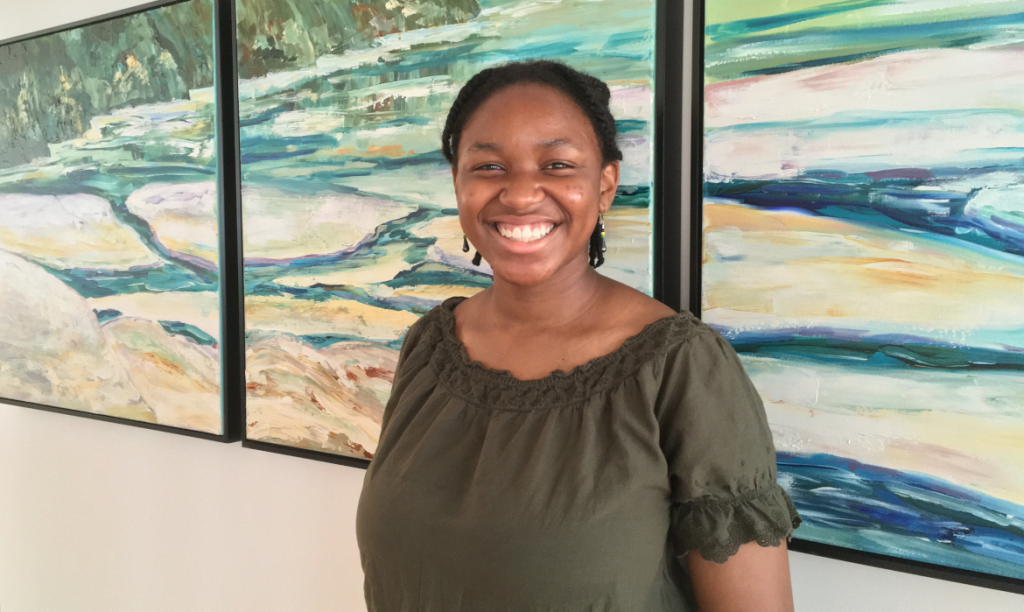 Law in Action Within Schools (LAWS) is a collaborative education program designed to support, guide, and motivate high school students who face barriers to success by exposing them to law and justice through workshops, mentorship, and employment programs.
The Law Foundation of Ontario is a longtime funder of LAWS and in 2018 LAWS became one of the Foundation's first Catalyst grantees. In addition to being a primary funder, the Foundation participates in LAWS' Summer Job Program, hosting a high school student for a month. This year we were fortunate to host Jenel. Here are some of her reflections about working with the Foundation.
By Jenel Jackson
Hello, my name is Jenel Jackson. I'm 18 and starting my first year of university in September. This summer, I was fortunate enough to be placed with The Law Foundation of Ontario.
I was placed with the Foundation as a part of the LAWS (Law in Action Within Schools) summer job program. LAWS is a partnership between the University of Toronto Faculty of Law, Osgoode Hall Law School, and the Toronto District School Board. As well as a grantee of the Foundation.
When I arrived, they had my workplan prepared and were open to any questions, comments, or concerns I had about everything. I rotated among the different teams here, which I found unbelievably helpful as I'm still very unsure about my future. This was a great opportunity to see multiple different pathways in one placement.
I worked in the finance department first, which I was a bit on the fence about but ended up enjoying. Everyone on the team was amazing and friendly. I learned about how the Foundation receives its money as a nonprofit and a little bit about how they give it to organizations. I worked on mixed trust spreadsheets, sat in on a meeting, and got a lot of practice with Excel, which will come in handy in the future. Even though finance isn't necessarily what I'm interested in, I still had a great time learning with the team.
Next, I worked with the Class Proceedings Committee team. They focus more on the law and legal cases and help finance class action lawsuits through an applications process. I mainly helped with going through past cases to find information. It was my first time getting the opportunity to read through real applications for class actions funding. It was very eye-opening to understand what they looked for in funding a case and getting to see how lawyers communicate with one another.
Lastly, I got to work with the grants team, which is where I learned more about how the Foundation funds grantees like LAWS. I got to work on a research project about legal services all over Ontario, such as legal aid clinics. This helped me learn a lot about legal services and legal aid clinics provincially, in addition to some more tricks with Excel formatting-wise.
While I'm grateful for everything I got to do here, my favourite part of working with the Foundation was the one-on-one meetings I did with many of the staff. This was such an important part of my experience because I received excellent advice from all these lovely people. All come from various backgrounds, but all are similar to the one I want to pursue, by studying humanities. It was wonderful to hear about their work and university experiences before coming to the Foundation. It gives me hope for exploration before settling into the job I plan to do for the rest of my life. It's nice to know that even after you start your career, it's still just the start of another journey.