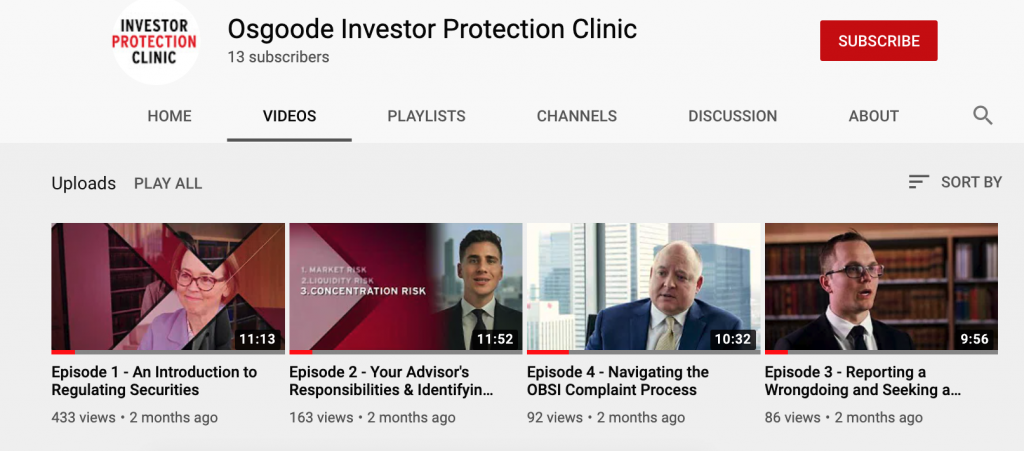 With the help of one of our Responsive grants, the Investor Protection Clinic at Osgoode Hall Law School recently developed a video series to address some of the key issues faced by individuals who have invested in capital markets and may be vulnerable to financial mismanagement.
The series, called Points of Interest, is one of the ways the Clinic is working to narrow the gap in the public's understanding of investments and help them avoid financial harm. According to the Clinic, almost 60% of their clients to date identify as having low or no investment knowledge. They rarely understand the information on the investment documents provided to them and do not always understand the risks or characteristics of investment products, even after signing documents that expressly indicate such things.
The first 4 videos in the series cover:
The videos are hosted on YouTube. In the area below each individual video, there are also "helpful links" to relevant organizations and resources. (You can find the videos here: https://bit.ly/3e6JERH.)
The Osgoode Investor Protection Clinic provides free legal advice for people who suffered an investment loss as a result of someone else's wrongdoing. It is the first clinic of its kind in Canada and was established in 2017 with seed funding from The Law Foundation of Ontario's Access to Justice Fund (ATJF).
The purpose of the ATJF granting was to support projects that would help protect the rights of investors, in particular the rights of vulnerable investors. Factors that can make someone vulnerable include a low level of financial literacy, the inability to converse in English or French, dementia or other health issues, little to no savings, and dependence on return on investments for their retirement or other circumstances, such as a disability.