By Helen Seifu, Program Manager at People 2 People Aid Organization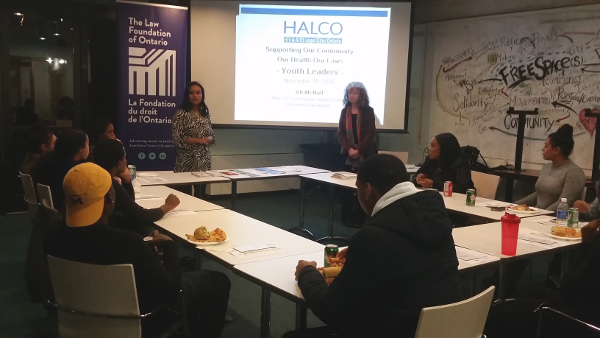 People 2 People Aid Organization (P2P), a small nonprofit founded by concerned individuals from the Toronto Ethiopian community, recently completed a legal training project using the traditional Ethiopian coffee ceremony to share legal information about HIV and AIDS.
Funded through The Law Foundation of Ontario's Connecting Communities initiative, the project was led by P2P, working closely with the HIV and AIDS Legal Clinic of Ontario (HALCO), Women's Health in Women's Hands, and Africans in Partnership Against AIDS. HALCO developed legal information materials and conducted the legal training.
P2P arranged training for faith and community leaders in the Ethiopian-Canadian community, as well as for community, health, and settlement workers. The training focused on criminal law, immigration/refugee law, and human rights law as they relate to HIV/AIDS.
Faith and community leaders have access to members of the Ethiopian-Canadian community in ways that many health and legal clinics do not. As a result of this training, these leaders or 'trusted intermediaries' are better able to give people legal information and make good referrals. Members of the Ethiopian-Canadian community are now better informed about HIV/AIDS and the law and where they can go for help.
The project benefited from the insights of the Connecting Communities community of practice, which is made up of a group of organizations that have conducted similar legal training in the past. Working with Connecting Communities was amazing. P2P benefitted from their guidance, resources, and support throughout the course of the project.
The traditional Ethiopian coffee ceremony was a key component of most of the workshops. The coffee ceremony helps put people at ease so they can share ideas and information around social concerns in community settings. In fact, traditional Ethiopian coffee ceremonies were used as a strategy to foster discussions among community members on HIV/AIDS in Ethiopia during the height of the epidemic. The ceremony helps foster a sense of inclusion, openness, and comfort among participants.
Workshop participants learned more about HIV transmission and the realities of living with HIV. As one of the community leader mentioned, "I know now what HIV really means". This project bridged the knowledge gap on HIV/AIDS and provided critical legal information to help community members. Educating community leaders, including faith leaders, is a way to ensure that there is 'no wrong door' when someone is looking for legal information.
The following are some of the key lessons learned over the course of the project:
Networking and connecting with community organizations and faith leaders was key to getting participants to the workshops. Having in-person meetings to provide faith and community leaders with a clear understanding of the purpose of the workshop, topics of discussion, and to address any questions or concerns they had were key in getting them on-board to host and attend the training. Contacting faith and community leaders earlier and engaging them from the very beginning of the project, including needs assessment, project development, and implementation might have resulted in better engagement.
Where the workshop format was not an effective way to connect with certain faith and community leaders, the project adapted its approach and took the opportunity to have one-on-one discussions with these leaders. These meetings were successful and gave project staff an opportunity to build awareness and open the door to future training and conversations.
Language matters. Training materials were translated into Amharic and Tigrigna.
The project connected with 19 faith and community organizations. Seventy-six people attended workshops and project staff had conversations with another 32 leaders. A total of 28 community workers attended training as well.
The overall response from participants was positive. The training increased their knowledge and interest in HIV/AIDS and the law. In addition, the project was an effective outreach mechanism for P2P, HALCO, and the community partners. Community workers reported learning more about HIV/AIDS, the Ethiopian-Canadian community, and the law. Community and faith leaders appreciated gaining legal information about HIV/AIDS. Using a cultural ceremony helped build bridges and create openness to engage in what are sometimes difficult conversations about the serious legal needs of people living with HIV/AIDS.
---
About Connecting Communities
Connecting Communities is an unprecedented partnership of legal and community organizations. Its aim is to improve the capacity of frontline workers in community organizations to provide basic legal information and referrals to their clients.
About The Law Foundation of Ontario
Established by statute in 1974, The Law Foundation of Ontario is the sole foundation in Ontario with the mandate of improving access to justice. Through granting and collaboration, the Foundation invests in knowledge and services that help people understand the law and use it to improve their lives.