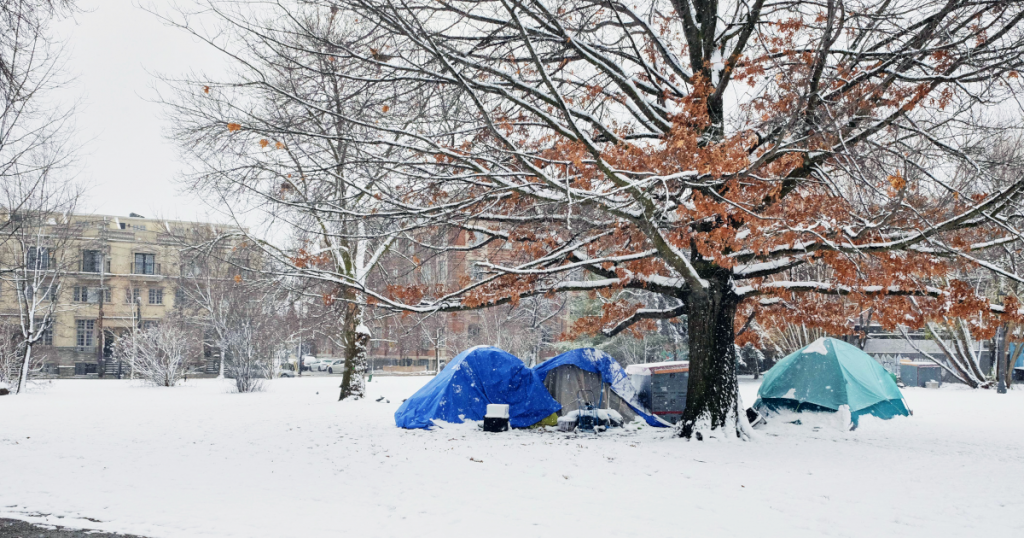 The Community Justice Collective is a group of lawyers and advisors who provide free legal support to organized communities and social justice movements in a range of practice areas including human rights, housing, criminal, and Charter litigation.
Ontario's homeless crisis intensified during the pandemic. Those who could least afford it shouldered the brunt of lost income, increasing rents, and limited affordable housing. Rather than compete for limited shelter spots, and fearful of the increased risks of infection in congregate settings, some of the most vulnerable ended up in public spaces such as parks.
"Larger and more visible encampments have led to more interactions with law enforcement and city officials," says Sima Atri, a staff lawyer at the Community Justice Collective. "These interactions highlighted the need for specific and accessible public legal education for people who are unhoused."
Together, Community Justice Collective, Encampment Support Network, and The 519 are developing and delivering public legal education (PLE) workshops and resources tailored to legal issues faced by encampment residents. Funded by a Responsive grant, the project was spurred by questions the project partners were getting from outreach workers and encampment residents, making it clear there were gaps in understanding the legal rights of unhoused people.
Created in consultation with encampment residents, the PLE covers topics such as basic rights when interacting with the police, the Charter rights of people living in public spaces, the powers of private and municipal security officers, provincial offences, and municipal bylaws.
The project partners also produced a practical toolkit for encampment residents. The toolkit includes tent signs and wallet cards about privacy and property rights, template letters to retrieve confiscated belongings, and template submissions to respond to alleged Provincial Offences Act violations, such as trespassing.
Our project is supporting and empowering the meaningful organizing work undertaken by encampment residents, outreach workers, volunteers, and legal professionals to identify and take a stand against rights violations and advocate for better, safer, and more dignified housing."
— Sima Atri, staff lawyer, Community Justice Collective