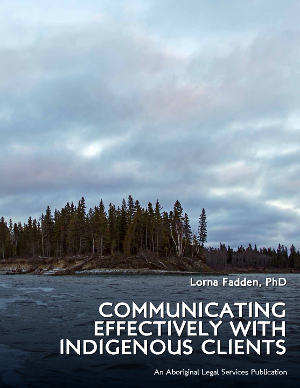 Funded by The Law Foundation of Ontario's Access to Justice Fund, Aboriginal Legal Services recently developed two resources to help Indigenous people, and those who work with them. These resources were designed to improve the experiences of Indigenous people with the legal system.
Aboriginal Legal Services is a Toronto-based charitable organization that provides a variety of legal services, including a court worker and Gladue caseworker program, diversion program, victim services, and legal representation in a number of areas.
Communicating Effectively with Indigenous Clients
A guidebook was created by Lorna Fadden, PhD, for lawyers, judges, and others working in the justice system to help them work more effectively with Indigenous clients. What sets this guidebook apart from other materials about working with Indigenous clients is that it looks at the issues Indigenous people face from several viewpoints, including linguistic and cultural. It provides expert and practical advice to avoid misunderstandings and encourage respectful and effective communication between legal professionals and Indigenous clients.
Not Just Another Case: When Your Loved One Has Gone Missing or Is Murdered
What do you do if your loved one is gone? A new video created by filmmaker Audrey Huntley sets out to help answer that question. Through interviews and information about the law and legal processes, the video aims to help family members and friends of murdered and missing Indigenous people to navigate the justice system and access legal supports.