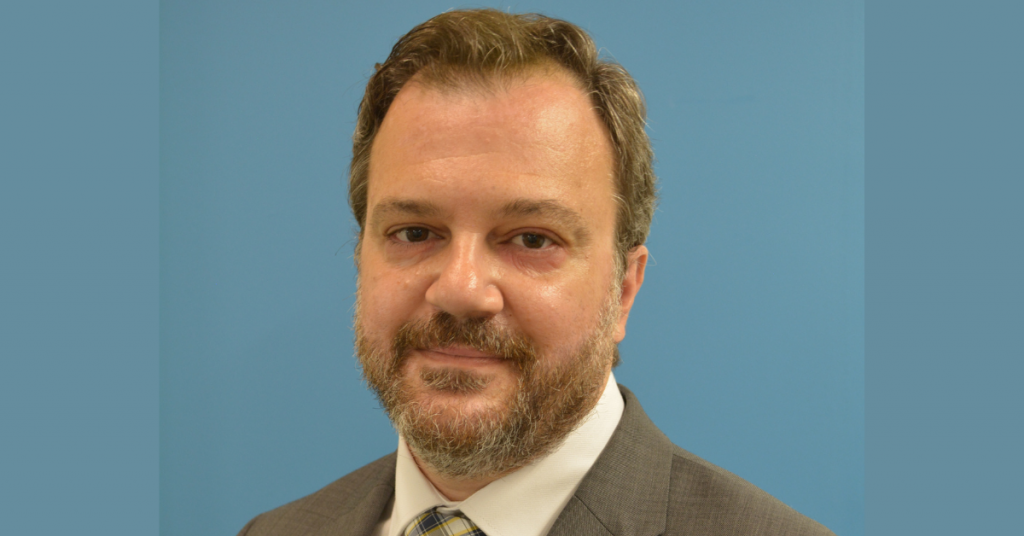 The Law Foundation of Ontario is pleased to announce that Roberto (Robert) Lattanzio is the 2022 recipient of the Guthrie Award, the Foundation's signature award to recognize exceptional access to justice champions.
Robert is the Executive Director of ARCH Disability Law Centre, a specialty legal clinic that defends and advances the equality rights, entitlements, fundamental freedoms, and inclusion of persons with disabilities in Ontario. Robert starting at ARCH as an articling student in 2003, then moving to staff lawyer, and finally, since 2015, has been serving as Executive Director.
"Robert has dedicated his legal career to advancing the full equality and inclusion of persons with disabilities," says Linda Rothstein, the Foundation's Board Chair. "He's been at the forefront of the most substantial innovative test case litigation, law reform, legal professional development, and public legal education initiatives that are improving access to justice for people with disabilities in Ontario."
"Robert is recognized as a committed and passionate leader in the disability rights and disability justice communities, the legal clinic community, and the broader human rights community in Ontario and across Canada," say Kerri Joffe, Mariam Shanouda, and Doreen Way of ARCH Disability Law Centre who nominated Mr. Lattanzio for the Guthrie Award. "Robert cares deeply about each of his clients. In countless cases, he has gone above and beyond what is ordinarily expected of a lawyer to defend his clients' rights to equal access to services and resources."
In his practice, Robert provides direct legal services to people with disabilities. Described as "incredibly empathetic", he approaches his clients with sensitivity and a deep awareness of the trauma that many people experience due to systemic ableism and intersectional discrimination.
He has acted as legal counsel in test case litigation at all levels of court, including the Supreme Court of Canada, and has made law reform submissions to various levels of government, committees, and administrative bodies. He is credited with championing some of the most important pieces of disability-rights legislation in Ontario and Canada. His law reform work advances the implementation of the United Nations Convention on the Rights of Persons with Disabilities, and focuses on a broad range of law and policy including the Education Act, Medical Assistance in Dying, and the Accessible Canada Act.
Throughout the pandemic, Robert has led the ARCH team in identifying and responding to COVID-related legal issues impacting people with disabilities. This includes illustrating to government ministries the discriminatory impacts of COVID policies on people with disabilities in hospital and congregate care settings, with healthcare triage protocols, and vaccination distribution and requirements.
Over his career, Robert has designed and delivered numerous legal rights and education trainings for persons with disabilities, licensees, and law students. Alongside disability community leaders, he co-founded the Respecting Rights Committee, which is a group of self-advocates with intellectual disabilities who work with ARCH lawyers and social workers on public legal education and law reform projects. With Indigenous members from the ARCH Board and the community, he established the Moving Together Toward Supporting Reconciliation Committee. One of the committee's recent initiatives is the development and launching of the Teresa Daw Internship, which offers a paid placement for Indigenous (First Nations, Inuit, Métis) law students to explore and work through current legal and disability related issues that are of utmost importance to the student and their community.
Robert led changes to ARCH's service delivery model, and the creation of ARCH's Accessible Services Program, which educates the legal profession on providing accessible services to Ontarians with disabilities. And, he was instrumental in developing the Disability Law Intensive, a collaborative program of ARCH and Osgoode Hall Law School that allows 12 law students to work on test case litigation and systemic law reform initiatives every year.
Robert is a sought after speaker and author on a diverse range of topics including equality and human rights law, administrative law, education law, and law reform advocacy. He has served on numerous advisory committees including the Law Society of Ontario's Equity Advisory Group, and the Ontario Human Rights Commission's Community Advisory Group.
Robert received his LLB and Bachelor of Civil Law (BCL) degrees with distinction from McGill University in 2003.
Robert will be presented with the Guthrie Award Medal at a reception event later this year, public health protocols permitting.
Supporters of Roberto Lattanzio's Guthrie Award nomination
"Robert believes strongly in the importance of working with disability communities on issues that the community identifies as critical. He develops close working relationships with grassroots advocates and disability rights leaders. He has a remarkable ability to listen to the needs of community and develop creative legal solutions that reflect those needs. Robert is a well-respected leader, whom other disability rights leaders regularly turn to for support and assistance. He is remarkably humble and manifestly deserving of this award."
– David Lepofsky, CM, O. Ont., Visiting Professor, Osgoode Hall Law School; Chair, Accessibility for Ontarians with Disabilities Act Alliance
"ARCH has an indispensable role in the disability rights community, as the pioneer test case clinic advancing law reform and policy at the intersection of disability rights, human rights, and access to justice for the poorest of poor communities in our province. I cannot think of any other lawyer in Ontario who, in the last decade, has contributed more to promoting grassroots disability advocacy, improving social justice for low-income people and mentoring a new era of law students than Robert Lattanzio."
– Ena Chadha, LLB, LLM, former Chief Commissioner of the Ontario Human Rights Commission; former Vice-Chair of the Human Rights Tribunal of Ontario; former Director of Litigation, ARCH Disability Law Centre and current Chair of the Board of Directors of the Human Rights Legal Support Centre
"Robert's dedication to all persons living with disabilities is second to none. Within the disability community of Canada, Robert, through his skill, knowledge, and personality, has been a bridge between organizations and mandates, eroding silos and facilitating partnerships by revealing commonalities that are sometimes overlooked. I can honestly say that for us and the hundreds of organizations that we work with, the name of Robert Lattanzio and ARCH Disability Law Centre are considered synonymous with trust, honesty, and integrity."
– Neil Belanger, Chief Executive Officer of Indigenous Disability Canada/British Columbia Aboriginal Network on Disability Society
"I am well aware of Robert's leadership and dedication to people with disabilities. Every year, I offer a disability rights seminar and Robert has delivered an exemplary guest lecture on disability rights and education, making a special trip (prior to COVID-19) to Ottawa for this purpose. While serving on the Council of Canadians with Disabilities' Human Rights Committee, I saw how collaboratively ARCH works on disability test case litigation with other disability rights organizations. Robert deserves immense praise for his leadership role."
– Dr. Ravi Malhotra, LLM, Professor, University of Ottawa, Faculty of Law, Common Law Section
"We know how it feels to be supported by people like Robert. Thanks to his leadership, Respecting Rights is a thriving legal rights education project, led by persons with disabilities. Rob works alongside us and treats us as respected equals. He is here with such empathy, deeply listening to us with understanding and guidance. He walks the talk of true accessibility – making sure we are understanding what he's talking about and never ever rushes anyone when it comes to learning about their rights."
– Self-advocates of Respecting Rights, a Project at ARCH Disability Law Centre led by persons with disabilities
"Robert Lattanzio is an extraordinary human being and a dynamic leader in the disability rights movement who effectively collaborates with colleagues, community groups, and individuals. He is held in high regard by the many organizations with whom he works. His efforts have had a positive influence on fellow collaborators, ARCH staff, ARCH board members, law students, and many, many Ontarians who have disabilities. He carries his genuine dedication to improving life for people with disabilities to every aspect of his life."
– Sandi Bell, Board Member, ARCH Disability Law Centre
"As an astute jurist, Robert has not only opened pathways for battling systemic barriers that preclude citizens from full actualization of rights, due to intersectional identities of race, disability, gender, and other marginalized socially constructed identities; he does this with a human touch. In Robert's world, people are not simply cases, they are human beings, citizens who are seeking and deserving of equity and equality under the law, as well as the pursuit of a satisfying life in communities where they live and work."
– Yvonne Simpson, Board Member, ARCH Disability Law Centre
About the Guthrie Award
The Law Foundation of Ontario created the Guthrie Award in 1996 to honour H. Donald Guthrie, Q.C., a long-standing member and Chair of the Foundation's Board.
Previous recipients include: the Elders' Council, Indigenous Justice Division, Ministry of Attorney General; Pamela Cross, women's rights advocate; Mary Birdsell, Executive Director, Justice for Children and Youth; Professor Reem Bahdi, professor, author, and human rights advocate; Julie Mathews, Executive Director, Community Legal Education Ontario; Kimberly Murray, Assistant Deputy Attorney General, Aboriginal Justice and former Executive Director, Truth and Reconciliation Commission of Canada; Stephen Goudge, former Ontario Court of Appeal; the Hon. Roy McMurtry, former Attorney General and Chief Justice of Ontario; Alan Borovoy, former general counsel, Canadian Civil Liberties Association; and the Barbra Schlifer Commemorative Clinic.