Update:
Watch a video of her speech.
See photos on Facebook from the celebration event.
---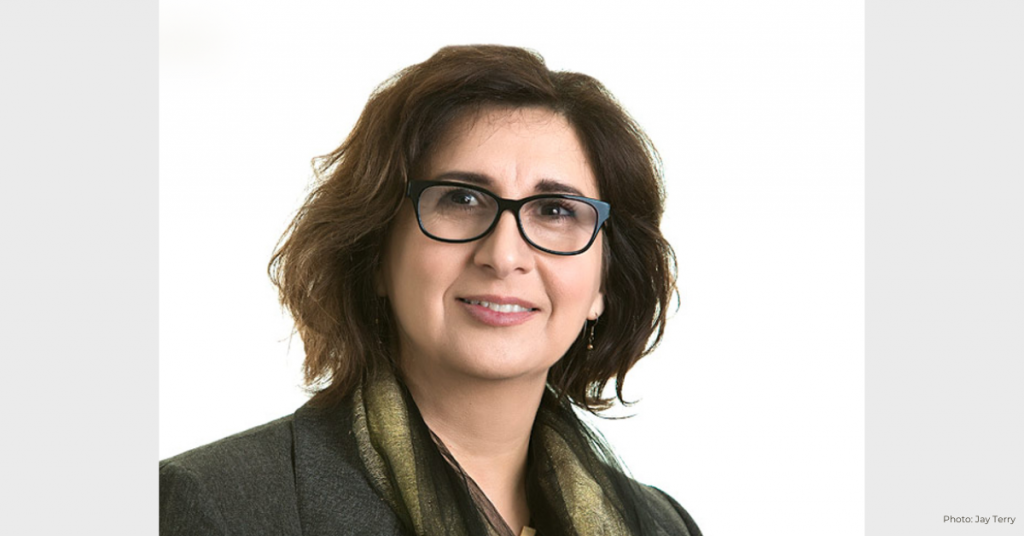 The Law Foundation of Ontario is pleased to announce that the 2017 Guthrie Award will be presented to Reem Bahdi. The Guthrie Award is the Foundation's signature award to recognize exceptional access to justice champions.
Professor Bahdi is an author, researcher, and human rights expert, with particular expertise in the human rights of Arabs and Muslims in Canada. She was the Canadian Bar Association's first Equality Advisor and was instrumental in the creation of the Arab Canadian Lawyers Association.
"Professor Bahdi has seized the opportunity to work on complex and cutting edge access to justice issues," says Linda Rothstein, the Foundation's Board Chair. "She has dedicated her life to changing hearts, minds, and systems to champion human rights. And, remarkably, it seems she is just getting started."
Canada's first tenured Palestinian-Canadian law professor, Professor Bahdi is an associate professor at the University of Windsor's Faculty of Law and a visiting professor at Birzeit University's graduate program in democracy and human rights in the West Bank. She helped introduce a mandatory access to justice course at Windsor Law in 2003 and served as the law school's Associate Dean from 2012 to 2015.
"Professor Bahdi is an exceptional member of our Faculty of Law, and she is engaging our country in vitally important conversations," says Alan Wildeman, the President and Vice-Chancellor of the University of Windsor and the individual who nominated Professor Bahdi for the award. "She has lived and breathed access to justice, and is a role model to students, scholars, and the profession."
Professor Bahdi's own research focuses on the human rights of Arabs and Muslims after 9/11 and Palestinian judicial education.
She has served as an expert witness, often on a pro bono basis, in many legal proceedings involving Canadian-Muslim rights and national security, including the Commission of Inquiry into the Actions of Canadian Officials in Relation to Maher Arar.
From 2005 to 2012, Professor Bahdi established and managed an international development project called Karamah, which means 'dignity' in Arabic. Primarily funded by the Canadian International Development Agency, Karamah promoted human dignity in the administration of justice in the West Bank and developed a model for judicial education to advance human rights.
Professor Bahdi has authored or co-authored numerous articles, book chapters, reports, and conference papers, which have been cited extensively and helped inform policy discussions in Canada and abroad. In 2015, she was inducted into the Royal Society of Canada's College of New Scholars, Artists and Scientists.
Looking to the future, Professor Bahdi has several new research initiatives in development. These include:
A community-based study, funded by The Law Foundation of Ontario, with the Arab Canadian Lawyers Association about the perceptions and needs of the Arab community in Ontario as it relates to access to justice
The finalization of two scholarly papers about Canadian human rights tribunals and access to justice since 9/11 that include a review of over 250 decisions involving Arabs and Muslims in Canada
A collaborative project with Laura Lowen, Associate Professor of Collaborative Piano/Vocal Coach at the Desautels Faculty of Music at the University of Manitoba to teach empathy to law students through music
The Guthrie Award will be formally presented to Professor Bahdi at a reception later this year.
The Guthrie Award has added significance this year as 2017 marks the 20th anniversary of the first time the award was presented. "We wanted to pause and reflect on this important milestone," says Ms Rothstein. "The 20th anniversary gives us an opportunity to highlight the important work that has been done over the past 20 years and the work that still needs to be done to improve access to justice 20 years from today."
---
Quotes from the supporters of Professor Reem Bahdi's Guthrie Award nomination
"Whether serving as a resource to members of her community or supporting racialized law students in need of role models, Reem has for more than 15 years advanced the cause of access to justice locally and around the world, from the classroom to the courtroom. Reem Bahdi is eminently deserving of recognition for her tireless service to the cause of access to justice."

– Faisal Bhabha, Associate Professor, Osgoode Hall Law School
"Professor Bahdi has a significant proven track record of furthering access to justice in Canada. She has achieved this work with integrity, compassion and intelligence. She is extremely humble and diligently works to further access to justice without seeking the attention and recognition that she deserves."

– Zahra Binbrek, legal counsel, Human Rights Legal Support Centre and an executive member of the Arab Canadian Lawyers Association
"Reem is fully committed to the implementation of human rights, whether in a classroom teaching access to justice, as an expert witness in a racial profiling case, or whilst overseas working on the Karamah project with the judiciary. She has devoted her career to exposing the universality and transformative nature of human rights with a view to defending the rights of marginalized groups."

– Leilani Farha, Executive Director of Canada Without Poverty and UN Special Rapporteur on Adequate Housing
"Reem is a leading expert in Canada's national security's laws and their impact on the human rights and civil rights of Canadians and non-citizens… In post 9/11 Canada… it was empowering for the community to have someone of Reem's calibre to analyze and provide critical analysis of these laws and to explain in lay terms why they were problematic. This information gave the community knowledge and confidence to undertake various campaigns to raise awareness and mobilize to challenge these laws.

– Dania Majid, lawyer, Advocacy Centre for Tenants Ontario and founder and president of the Arab Canadian Lawyers Association
"Professor Bahdi pushed me and others to critically examine complex social issues; taught me and others to discern when procedural, substantive, or symbolic barriers to access to justice present themselves; and challenged us to think through the range of advocacy strategies to combat such barriers, whether such strategies would unfold inside or outside of a courtroom. In the end, I am undoubtedly a much more capable lawyer because of all this."

– Justin Reid, Counsel,  Independent Street Checks Review
"Even at Windsor Law, where access to justice (A2J) is our primary institutional theme, Professor Bahdi stands out as a leading light. Her contributions to legal education are multi-faceted. From innovative teaching to mentoring, and from cutting-edge research to equity-led administrative service, Professor Bahdi has been in the forefront of not only interrogating A2J on a theoretical plain, but in making our institutional theme a lived one for faculty, staff, and students."

– Christopher Waters, Dean and Professor of Law, Faculty of Law, University of Windsor Ontario
About the Guthrie Award
The Foundation created the Guthrie Award in 1996 to honour H. Donald Guthrie, Q.C., a long-time member and Chair of the Foundation's Board. The Foundation welcomes and encourages nominations of individuals who have a significant and proven track record of furthering access to justice.
Guthrie recipients have built bridges between youth and the justice system, advanced justice for Indigenous peoples, served women experiencing violence, and strengthened the community clinic system to assist people with low-incomes. Previous recipients include: Kimberly Murray, Assistant Deputy Attorney General, Aboriginal Justice and former Executive Director, Truth and Reconciliation Commission of Canada; Stephen Goudge, former Ontario Court of Appeal; the Hon. Roy McMurtry, former Attorney General and Chief Justice of Ontario; Alan Borovoy, former general counsel, Canadian Civil Liberties Association; and the Barbra Schlifer Commemorative Clinic.

About The Law Foundation of Ontario
Established by statute in 1974, The Law Foundation of Ontario is the sole foundation in Ontario with the mandate of improving access to justice. Through granting and collaboration, the Foundation invests in knowledge and services that help people understand the law and use it to improve their lives.