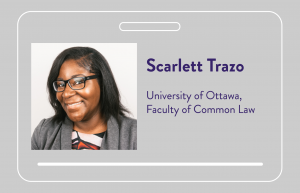 Clients and justice are both better served when lawyers and paralegals represent the full spectrum of diversity within our society. It is especially important then that students from communities traditionally underrepresented within the legal professions are supported while at law school.
Ontario law schools have equity and academic success programs that are designed to do just this. They help students academically and personally, giving them the support and resources they need to overcome challenges and build networks.
The Law Foundation of Ontario provides a total of close to $2 million in funding to Ontario's law schools each year. The law schools are able to use this funding to help support a variety of student success programs that foster diversity within the legal profession and advance the profession's understanding of diversity.
One example is the Peer Mentor Program offered by The University of Ottawa Faculty of Common Law through its Equity and Academic Success department. The program matches approximately 20 second and third year students with first year students. The support is offered in small groups and students can also reach out to their mentor for one-to-one help. The mentors provide practical and emotional support, helping the new students to navigate the social and academic world of law school.
For Scarlett Trazo, having a mentor was instrumental to her success at law school. Currently articling in Ottawa, Scarlett Trazo was in the French Common Law program at the University of Ottawa.
One of Scarlett's first-year academic tutors became an informal mentor to her (the school's formal mentorship program had not launched yet). He was always available to answer her questions and give her advice.
"I went to him for everything. If I had anxiety about an exam, I'd go and ask him questions. I had questions about recruitment and applying to firms. I'd get reassurance that everything was going to be okay. I realized that it was so important for me to have a go-to person."
Thankful for all the help she received, Scarlett wanted to pay it forward and decided to become a mentor in her final year of law school.
"I myself am a French-speaker and a Black woman and I've lived in so many different places in Canada. The program has been a way for me to reach out to other people and, because of my background, I feel that a lot of people are able to relate to me."
Scarlett is grateful she had someone she could count on and the students she mentored feel the same – a few attributing their success at law school to Scarlett's empathetic and practical support.
"As a mentor we try to not just focus on the academics but also try to get students to realize there's much more outside these four walls. I feel like students need somebody that's gone through something similar to their own situation or with a similar cultural background to relate to them and be able to absorb what they're saying. It's one way to encourage students and let them know there are so many different people out there in the legal profession."