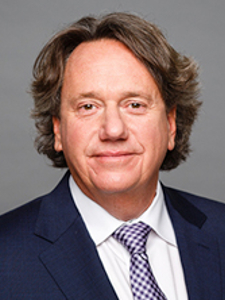 The Law Foundation of Ontario is pleased to announce the appointment of Paul M. Cooper to its Board of Trustees.
Mr. Cooper has specialized in criminal and regulatory law for over 25 years, currently as defence counsel at Cooper Jørgensen. Previously, Mr. Cooper was a federal prosecutor where he focused on drug and tax prosecutions.
"We're very pleased to welcome Paul," said Foundation Chair, Linda Rothstein. "He brings significant experience helping people at their most vulnerable time deal with life-changing legal issues. He has proudly spent much of his career fighting for the underdog and his approach to a client-first legal practice will make him an important voice at the Foundation and for our grantees."
Appointed by the Law Society of Ontario, Mr. Cooper replaces Ross Earnshaw, a partner at Gowling WLG in Kitchener and a Bencher who diligently served as a Board Trustee for three years.
In addition to his new role on the Foundation Board, Mr. Cooper serves as a Bencher of the Law Society of Ontario and is a member of the Criminal Lawyers' Association, the Canadian Bar Association, the Toronto Lawyers Association, and the York Regional Law Association. He also founded the Garage Series, a regular Continuing Professional Development event that brings members of the criminal bar together, and is an annual sponsor of the Criminal Lawyers' Association's Women in Criminal Law conference.
Called to the Ontario Bar in 1992, Mr. Cooper is a graduate of Osgoode Hall law school and has a Bachelor of Arts (Hons.) in Economics and International Finance.
---
About The Law Foundation of Ontario
Established by statute in 1974, The Law Foundation of Ontario is the sole foundation in Ontario with the mandate of improving access to justice. Through granting and collaboration, the Foundation invests in knowledge and services that help people understand the law and use it to improve their lives.