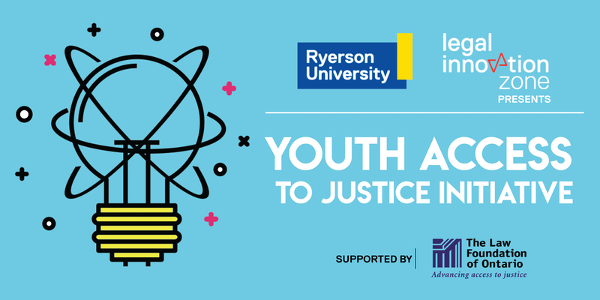 The Law Foundation of Ontario recently made a grant to Ryerson University's Legal Innovation Zone, working closely with the Ontario Justice Education Network, for a project called the Youth Access to Justice Initiative. It will apply technology and the law to address the access to justice needs of youth in Toronto.
The Foundation is calling on its grantees to help with this exciting project! Five unique sessions will be held in the fall of 2017. Using design thinking tools, these sessions will bring together students, youth and community leaders, educators, social workers, lawyers, and tech experts to share their ideas and solutions around improved access to justice for urban youth and to design approaches that help youth navigate justice issues.
Here's what we have learned so far
Earlier this year, the Foundation called upon some of its grantees who work with youth to provide insights around the access to justice needs of young people. These conversations helped us identify the persistent and emerging needs of urban youth. Some of the themes that emerged include:
Need information about rights – Youth need public legal information so they can go beyond seeing situations as "fair" or "unfair" and exercise their rights.
Need help so that the justice system is less intimidating – Youth feel fearful of or intimidated by the justice system. To address the disconnect between youth and the system, legal professionals need to make better efforts to listen to and communicate with youth.
Face unique challenges and have specialized legal needs – Some youth have unique legal needs such as cross-over youth, meaning youth engaged in the child protection system and the criminal justice system.
Technology has a place – Technology is often how youth learn and communicate and so can play a role in making a difference to access to justice as long as it is informed by an understanding of the access that youth actually have to different platforms and the way they use them.
These insights are helping to frame the project and the discussions around youth access for the sessions taking place in the fall.
Learn more and RSVP
Learn more about the sessions and RSVP today at: www.lizyoutha2j.com
---
About The Law Foundation of Ontario
Established by statute in 1974, The Law Foundation of Ontario is the sole foundation in Ontario with the mandate of improving access to justice. Through granting and collaboration, the Foundation invests in knowledge and services that help people understand the law and use it to improve their lives.