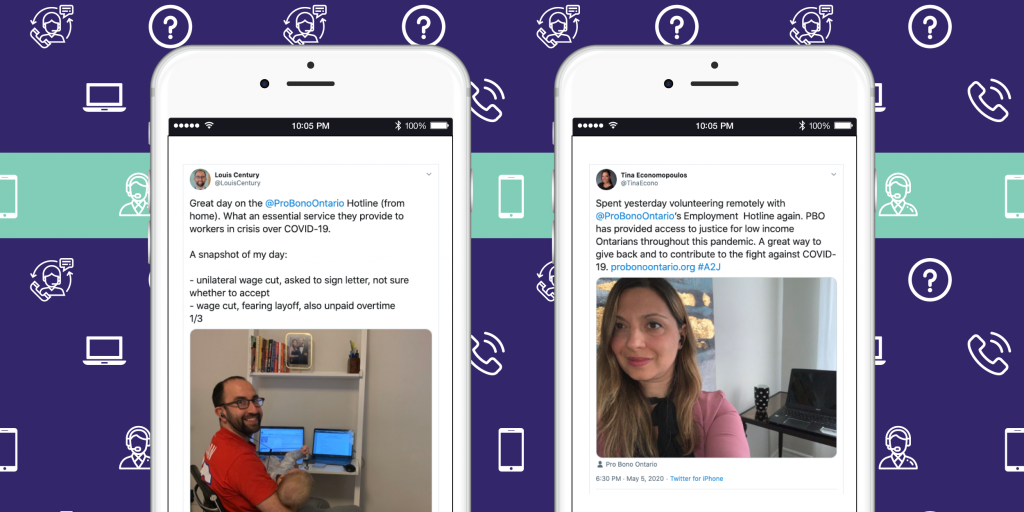 From her home in Ottawa, lawyer Tina Economopoulos logs on to Pro Bono Ontario's Free Legal Advice Hotline to answer legal questions from people across the province. Her days are busy and as soon as she completes a call, she's already answering the next.
"Because of the pandemic, the assistance that people need is much more immediate than it was before," says Tina, a Government of Canada, federal public servant who holds a senior advisory position (Crown Indigenous Relations and Northern Affairs Canada). She volunteers her time with the Hotline up to several times a month. "People are dealing with job losses, potential human rights abuses at work, and safety issues. They're all very serious matters that require attention and quick responses."
One call was from a man who was worried about his safety after several positive cases of COVID-19 were reported at his workplace. His employer provided some personal protective equipment but wouldn't say where within the company those employees had worked and was not strictly enforcing physical distancing protocols. Tina advised him of his workplace occupational health and safety legal rights and explained how to exercise them. With her advice, he stood up for himself and his colleagues and secured safer working conditions.
"Without the Hotline, he would not have been able to receive critical workplace health and safety information simply because he couldn't afford to pay for private legal services. When it comes to your livelihood and your health and safety, you need to be able to access guidance," says Tina.
The Law Foundation of Ontario, along with other partners, played an essential role in conceiving of and establishing Pro Bono Ontario in 2000 to celebrate the Foundation's 25th anniversary. It bridges the gap between low-income Ontarians who cannot afford a lawyer and lawyers who want to donate their services. Since then, the Foundation has provided over $14 million in core funding and project grants to Pro Bono Ontario, including for the Hotline's creation in 2017.
The Hotline complements the three in-person courthouse legal clinics in Toronto and Ottawa, and five in-hospital clinics around the province, providing all Ontarians with greater access to legal services. Volunteer lawyers both in-person and by phone provide advice and legal drafting services on civil law matters, such as civil litigation, consumer debt and protection, employment law, housing, and power of attorney for property and personal care, as well as corporate law for nonprofits and small start-ups. In 2019, Pro Bono Ontario helped 29,671 clients.
However, the COVID-19 pandemic forced the closures of all in-person services in mid-March and Pro Bono Ontario transitioned to providing only virtual services.
"We've seen a massive surge in demand from all over the province since we had to close our clinics," says Lynn Burns, Executive Director of Pro Bono Ontario, explaining that call volume increased 59% from March to June 2020 compared to the same period last year. Calls related to employment were up 181% and calls related to housing were up 165%. "Our volunteer lawyers' efforts are making an immediate difference in peoples' lives."
Given the uncertainty around coronavirus and the Hotline's capacity to respond to unmet legal needs, Pro Bono Ontario plans to continue providing virtual services until at least the end of 2020.
Louis Century, a lawyer at Goldblatt Partners LLP in Toronto, would occasionally volunteer his time at one of the Toronto clinics. Now he has shifted to the Hotline, and he has inspired many of his colleagues to sign up for shifts, including colleagues in Ottawa who could not previously volunteer on the Hotline.
"By switching to virtual, any lawyer across the province with a computer and a headset can sign up and take shifts. And, the high number of people calling Pro Bono Ontario every day is evidence of the extent of the need," says Louis.
The Hotline uses call centre technology and every volunteer lawyer has access to over 500 knowledge articles, 36 document assembly templates, and real-time support from PBO staff to assist callers.
Those templates helped another caller who had lost her job as a result of COVID-19 and was now facing eviction. Lynn says the volunteer lawyer advised the caller of her rights and then used one of the templates to help her draft a letter for her landlord indicating that Ontario had suspended evictions during the crisis. She was able to stay in her home. Yet another caller was unsure whether he had received a fair separation package when he lost his job. A Pro Bono Ontario lawyer reviewed the severance and helped him draft a negotiation letter. He called back a month later to say the letter helped him receive a much larger settlement.
"Without just-in-time legal advice, people make uniformed decisions which can have serious consequences," says Lynn. "The Hotline helps provide safe, immediate and effective access to justice. For so many people, there's nowhere else to access this type of service and nowhere else to turn."