Law in Action Within Schools (LAWS) is a collaborative education program designed to support, guide, and motivate high school students who face barriers to success by exposing them to law and justice through workshops, mentorship, and employment programs.
The Law Foundation of Ontario is a longtime funder of LAWS and in the fall of 2018 LAWS became one of the Foundation's first Catalyst grantees. In addition to being a primary funder, the Foundation participates in LAWS' Summer Job Program, hosting a high school student for a month. This year we were fortunate to host Firdaus. Here are some of her reflections about working with the Foundation.
By Firdaus Shallo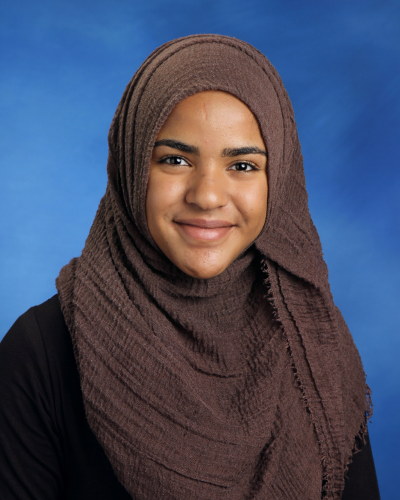 My name is Firdaus Shallo and I am a grade 12 student who has always had a passion for community outreach and student advocacy, and an active member of my community. Upon hearing that there is a position that will allow me to hone and refine my skills, I did not hesitate to reach out and see if this role was for me. Little did I know, this position would be an opportunity to discover more about myself and build up the necessary skills essential to be a productive worker.
I started my role at The Law Foundation of Ontario on July 27, 2020. I did not know what to expect with this position as we are in the midst of the COVID-19 pandemic, as well as added stresses in my personal life. Right off the bat, Tracy and the Foundation team welcomed me with open arms. If you think about a picture-perfect family, the Foundation team first comes to mind. They were so hard working and the team dynamic is immeasurable. Never once did I feel alone or pressured to do anything. It was quite a relief to know that I could work at my own pace. One thing that really stuck me was the team's constant check-ups and kindness. Often my WIFI would cut out 2 to 3 hours before a meeting and Tracy would always find a way to make things work. I could not have asked for a better mentor.
My time at the Foundation consisted of many different opportunities. I would send emails, have calls to learn about the different departments, be given new tasks every week, and work on my research project throughout the month, which was about the importance of student access to legal information. Every week, I was assigned to a different department. I worked as a mock Grants Officer, communications director, accountant, and in admin.
Overall, I have been able to grow, not only as a student but as a worker as well. Through my tasks, I honed the skill of sending professional emails and learned the importance of clear communication between the people you work with (as a message may come across differently than how you intended). If I had any questions, I would approach the person in a respectful way so it does not seem as though they were not clear with their wording. I would also ensure that all my emails were signed off correctly and had no grammatical errors. Before this job placement, I would not read my emails thoroughly before sending them, and I must admit it would come off as unprofessional. This summer job really enhanced my email writing, especially since it was all done remotely.
I really wish that this would have taken place in person, but I am a firm believer that everything happens for a reason. I am so blessed that I was paired with an organization that catered to my schedule, treated me with the utmost love and mentorship, and really brought me in as one of their own. It is not every day where you are welcomed by an entire organization online and leave feeling that you have known each person for years. This is an experience that I will never forget. I know that when this is all over, I will take the time to visit the office. This family has been so welcoming and though the situation we are in did not allow for us to meet in person, I look forward to keeping these connections as I move forward with life.