Part of our larger The Connecting Project, Connecting Rural Regions helps the Foundation to gain and share knowledge about the legal needs of people in rural and remote areas and the best practices to serve them.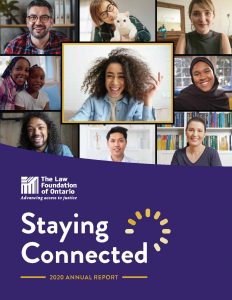 The Legal Clinic of Guelph and Wellington County is receiving $250K to further develop its successful Wellington County Mobile Legal Service pilot project, now called the Wellington Halton Law Van. This grant is the second and final phase of Connecting Rural Regions, our granting initiative to coordinate and integrate legal information, services, and referrals in rural areas in Ontario.
During its six-month pilot in 2019, the law van was staffed by outreach workers with Skype connections to a lawyer, paralegal, and community legal worker. They assisted close to 500 people, 87% of whom had no previous contact with the legal clinic.
Services included summary advice and referrals for family law, landlord and tenant, civil matters, wills, powers of attorney, criminal charges, employment and social assistance. About half acted on the assistance they received and 82% found it was helpful.
Building on its success, the Wellington Halton Law Van will hit the road again in 2021 for a three year cycle. During this phase, it will be staffed by outreach staff and caseworkers and expand into new communities in Halton Region, as well as offering phone access to family law, one of the highest demand areas during the pilot.