The 519 Community Centre's Legal Clinic offers pro bono general summary advice and legal support to LGBTQ2S communities, primarily in administrative, family, employment, and mental health laws, and has expanded to specialty legal clinics: Criminal Law, Immigration and Refugee, Trans ID, and Housing Law.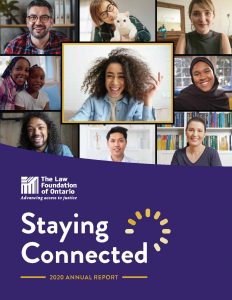 The 519 Legal Clinic provides legal services to 2Spirit, queer, trans, and non-binary communities, including those who are street-involved, homeless, or under-housed. Before COVID, service was exclusively by drop-in in downtown Toronto. That changed in March 2020 when The 519 was ordered to close its doors to the public due to the pandemic.
"The communities we serve relied on our in-person programming, particularly because we're one of the very few organizations that provide gender-affirming services," says Justin Khan, Public Interest and Legal Initiatives Director at The 519.
Within two months, the clinic re-launched, first by shifting to phone-based service, and later adding online services. Knowing that some clients didn't have access to the needed technology, the clinic reconfigured its physical space in keeping with public health guidelines so clients could come in and use a phone or laptop to make and have their appointments.
The hybrid model is here to stay. The clinic now offers legal help in-person, online, and by phone, allowing it to serve people across Ontario for the first time.
"The pandemic allowed us to reimagine what it means to provide access to justice and legal services to LGBTQ2S communities," says Justin. "We're now able to serve clients across the province. We have folks from remote communities and smaller towns reaching out for legal advice. If we were a drop-in space only, they wouldn't be able to do that."