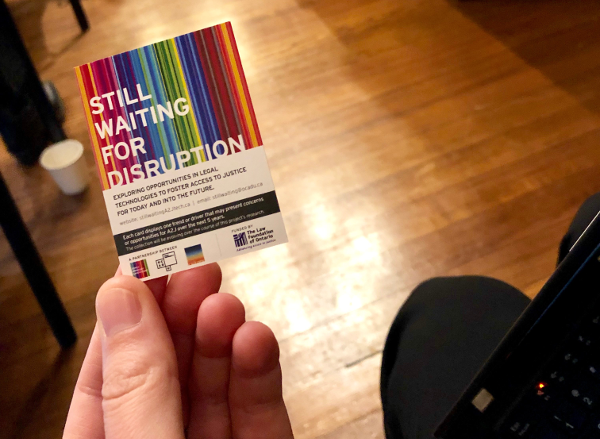 Ontario's fourth Access to Justice Week took place October 28 to November 1, 2019.
Access to Justice Week is held by The Action Group on Access to Justice (TAG), which is an initiative of the Law Society of Ontario and has been funded by The Law Foundation of Ontario since it began in 2015.
Close to 1,500 people participated in the Week's events, which covered topics such as investing in the justice sector, Indigenous justice, self-represented litigants, data and technology, public legal information, and a French-language legal clinic. See the articles below to learn more.
Data & Design Symposium
With the Law Society of Ontario, the Foundation co-hosted and organized a day-long Data & Design Symposium. The idea for the symposium was inspired by two recent granting initiatives: Justice and Technology Research and Measuring Impacts and Progress.
The symposium focused on data and metrics, design-thinking, innovation, and technology, and the integration of these with each other and across sectors. As hoped, it brought together experts and attendees (260 in-person and online) from many specialties from many sectors, including data scientists, technologists, entrepreneurs, policymakers, academics, lawyers, and the judiciary.
We want to thank everyone who attended; our event partner, the Law Society of Ontario; our facilitator Meredith Brown from Calibrate; and the experts who volunteered their time and gave us such deep and wise food for thought as we move forward in this area of grantmaking. Thank you:
Access to Justice Week articles
Did you miss Access to Justice Week? Here are some articles about the Week's events:
General coverage
Access to justice week agenda: Indigenous law, legal aid funds, big data and self-reps, Law Times, October 21, 2019
Y a pas deux matins pareils – La clinique d'information juridique au Centre francophone du Grand Toronto (French legal information clinics), ICI Radio Canada, October 29, 2019
Ontario's Fourth Annual Access to Justice Week Begin on Monday, October 28, Slaw blog, October 29, 2019
Access to Justice Week 2019: Diverse collaborators explore critical issues to place people at heart of justice, Law Society of Ontario, November 1, 2019
Investing in Justice: Keynote & Reception (October 28)
Investment in access to justice more than pays for itself, report finds, The Lawyer's Daily, October 24, 2019
The Global Access to Justice Project, Canadian Forum on Civil Justice, October 25, 2019
Indigenous Justice (October 28)
Oversight of insurance, banks needed for coverage of First Nations' fees, Law Times, October 28, 2019
Access to Justice Week panel stresses importance of education for legal community on Indigenous justice, The Lawyer's Daily, October 30, 2019
Understanding and Supporting Litigants (October 29)
Legal coaching, unbundled services highlighted by panel on A2J for self-reps, The Lawyer's Daily, November 5, 2019
How lawyers can help self-represented litigants, Law Times, October 29, 2019
Data & Design Symposium (October 30)
'Ethical' artificial intelligence no silver bullet to due process issues, says panel, Law Times, October 30, 2019
PLE/A2J Conference (October 31)
Consumers turn to Facebook, instant messages for access to justice, Law Times, October 31, 2019