We asked our 2020-2021 Public Interest Articling Fellowship participants to share some highlights of their articling experience. Here is some of what they said.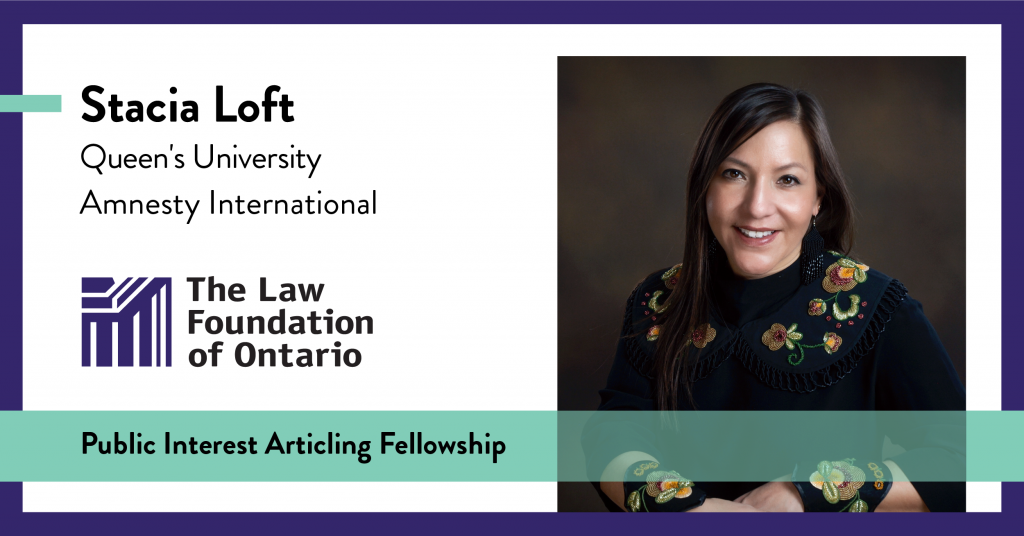 My journey at Amnesty has been humbling, challenging, exciting, and at times frustrating. Humbling in the sense that I have been able to work on time-sensitive responses such as drafting risk letters to support individuals who fled their home countries out of fear, facing deportation with the prospect of facing persecution upon their imminent return. Challenging in terms of being faced with new and diverse approaches to mapping out litigation strategies for one of many interventions. Exciting, as being called to testify at the House of Commons' Standing Committee on Foreign Affairs and International Development on weapons exports and Canada's obligations under the Arms Trade Treaty. And finally, frustrating, knowing that the work will not stop as long as there continues to be grave human rights abuses and blatant obfuscation in fulfilling international treaty obligations.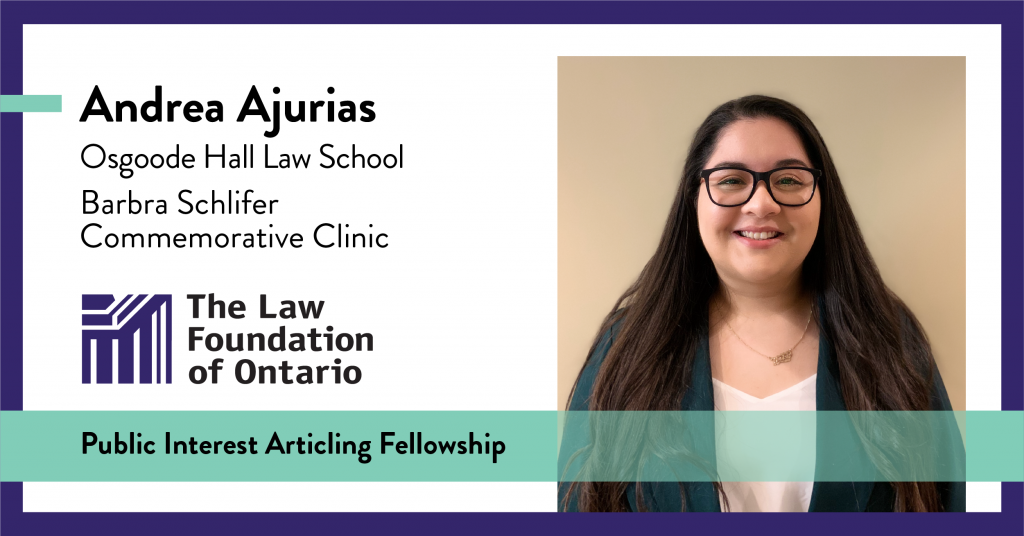 Through the Clinic I was able to be a part of larger structural projects that worked to challenge systemic structures and institutions that impact survivors of violence. This included assisting in research on a Court of Appeal intervention, as well as researching and drafting submissions to the provincial government on legislation directly impacting survivors of violence. Both projects allowed us to represent the voices of survivors of gender-based violence. I was also given the opportunity to work on day-to-day file work in assisting clients who have fled abusive relationships and gender-based violence. The opportunities included working on family and immigration law files. I was ecstatic to be a part of a number of files with positive outcomes. The environment invigorated my passion for working alongside survivors of violence and to continue my work in public interest law.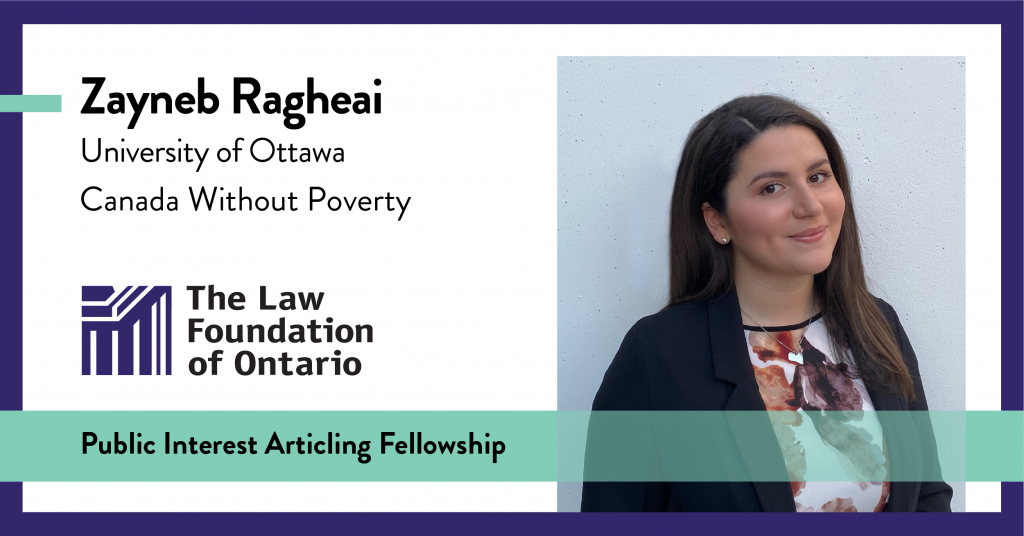 Ever since I decided I was going to pursue a legal career, I knew that I wanted to develop a practice that went beyond the scope of traditional law. As someone who has always been passionate about human rights and social justice, finding an articling placement with Canada Without Poverty through the PIAF program was a dream come true. My PIAF placement provided me with an exceptional opportunity to gain practical experience in the areas of law that I am most passionate about. I was able to better understand the importance of access to justice and the implementation of human rights principles within the legal context. I hope to continue pursuing a legal career centred around social advocacy and human rights with the broader goal of pursuing justice for the communities that need it most.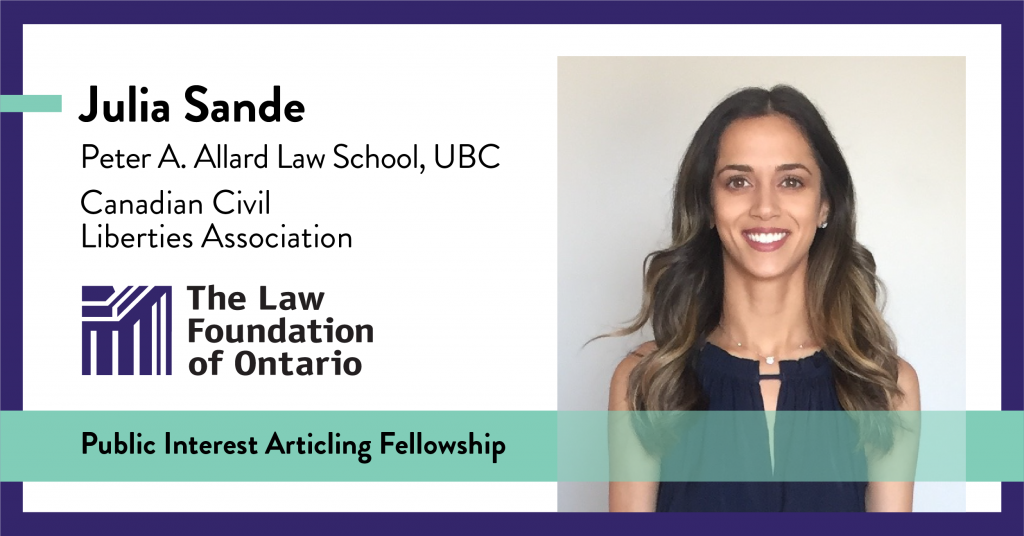 CCLA fights for systemic change, and I found it rewarding to work on projects that have profound impacts on a large number of individuals and communities, particularly those who are marginalized or vulnerable. For example, I had the opportunity to be involved in preparations for litigation that is challenging a police power which leads to significant racial profiling. Experiences of racial profiling can be traumatizing and humiliating, perpetuate criminalization, contribute to the continuing social exclusion of racialized people, and take a toll on a person's mental health. Profiling also puts racialized people at increased risk of physical violence from police officers. Many individuals and communities have experienced the harms of profiling and I felt honoured to be able to enhance their voices while working on litigation that would help to reduce police powers that enable profiling.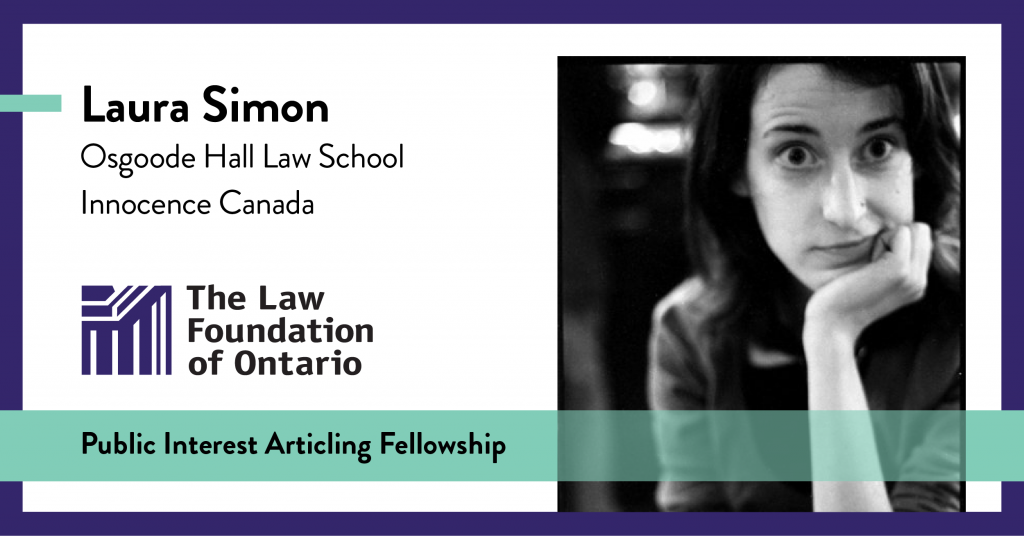 Wrongful convictions go to the heart of the integrity of the criminal justice system. A major part of my placement was assisting counsel with preparing and drafting a s. 696.1 application for Ministerial Review in a historic homicide case. These applications are extremely lengthy and outline the evidence on which the conviction is based, along with the new matters of significance that undermine the conviction and demonstrate that a miscarriage of justice likely occurred. This was an incredible experience. On the practical side, I had the benefit of working alongside senior counsel while developing legal drafting and research skills. An even more valuable experience was that I got to know the applicants and hear their stories. Their resilience in the face of unimaginable suffering was deeply touching and is something I will never forget.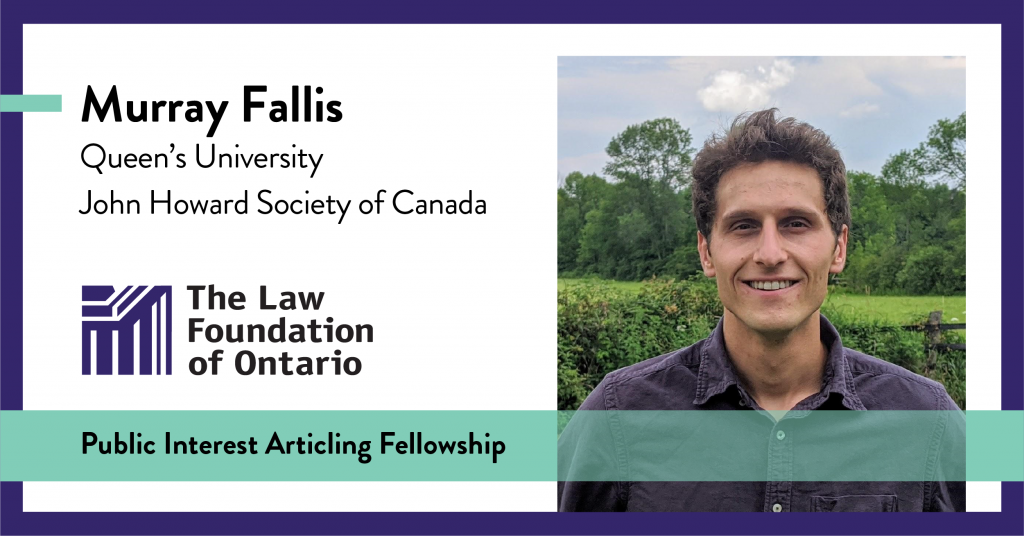 My 10 months were spent seeking to ensure federal prisoners had their Charter rights respected, while also promoting their health and safety in a congregate living setting. In my role as an advocate, researcher and legal ally, I experienced the whole lot: from bear hugs to fist bumps, and everything in between. More importantly, I learned an enormous amount about the practice of law – about client services, compassion, adaptability, and justice. Beyond assisting individuals, I very much enjoyed contributing to the national legal efforts of the John Howard of Canada. These efforts seek broad policy and legislative changes. Specifically, during my tenure, I contributed to a number of charter applications, writs of mandamus, submitted a Parliamentary petition, made comments on draft legislation, and met a broad group of characters who comprise Ontario's bar.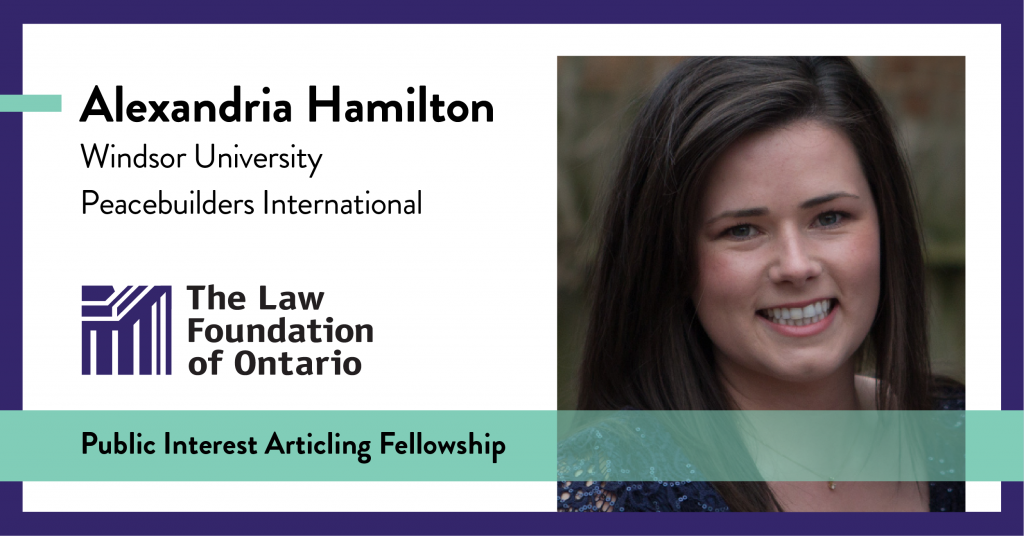 Since beginning my MSW/JD, I consistently struggled to find opportunities where both my social work and legal skills could be merged effectively. I was excited to learn about the work that Peacebuilders International (Canada) does within the youth criminal justice and education systems. Specifically, relying on restorative justice principals, Peacebuilders seeks to reduce recidivism, protect communities, and help youth overcome risks to criminality. In doing this work, Peacebuilders manages to combine social work and law into advocacy and programming that promotes youth success. Through the PIAF program, I engaged in meaningful work that both challenged me and encouraged the development of my legal and social work skills. Furthermore, this Fellowship allowed me to network with many unique organizations throughout Toronto to gain a better understanding of what a career in public interest could look like.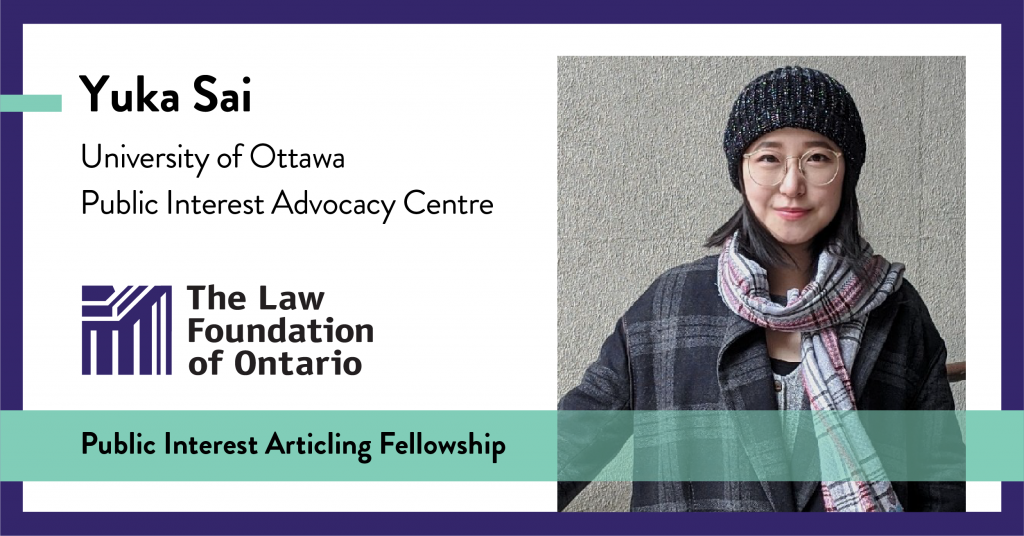 My work at PIAC involved issues in telecommunications, privacy, and competition law. One of the most meaningful pieces I wrote was for PIAC's submission to the Ontario Information and Privacy Commissioner's Strategic Priority Setting Consultation. I helped to draft recommendations on a range of policy areas that implicate privacy rights, including law enforcement, virtual health services, and data governance. The IPC's final report incorporated many of the concerns and suggestions I wrote into PIAC's submission. As for whether this will lead to tangible benefits for Canadians, it is too early to tell. However, I found that the reward of public interest work is not always in immediate results, but in the sowing and watering of proposals, arguments, and considerations to help shape public policy in a way that best protects the rights of all Canadians.