We asked our 2018-2019 Public Interest Articling Fellowship participants to share some highlights of their articling experience. Here is some of what they shared.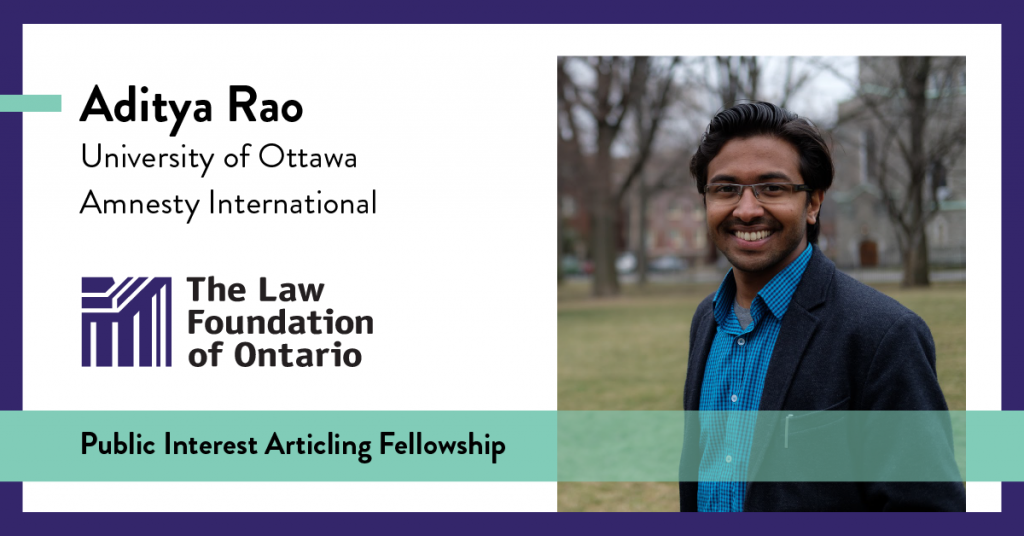 The Fellowship enables law students to get licensed doing the kind of law that we went to school for in the first place. In my 10 months at Amnesty International, I worked on three Supreme Court cases focused on human rights and helped prepare multiple submissions to various UN mechanisms… I [travelled] to Geneva along with my articling principal, Alex Neve, to present Amnesty's view of Canada's noncompliance under the Torture Convention. The Fellowship's competitive wages mean that articling students are paid well to do good work … Through the Fellowship I have gained access to networks of advocates who have generously offered guidance, advice, and support as I consider what I might do next.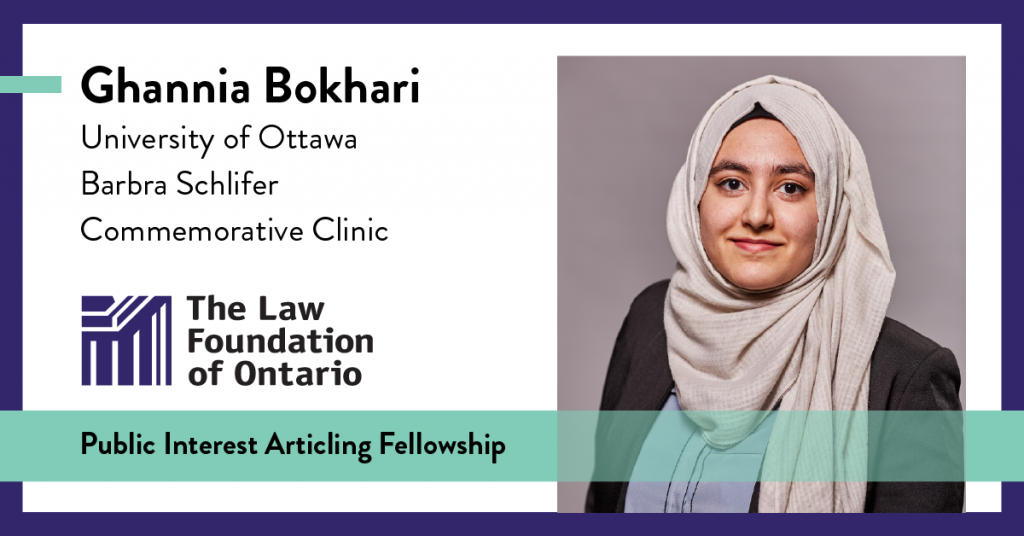 I worked closely with women who were experiencing or had experienced gender-based violence … These women not only had multiple and intersecting legal needs, but also faced numerous socio-economic barriers such as a lack of stable employment and/or housing, social stigma and ostracism, and a lack of family and/or childcare supports …. I found that assisting clients with their incredibly complex legal issues was challenging, but vital and necessary work. My fellowship experience opened my eyes to the depth of human suffering that exists among marginalized communities and to the shocking need for accessible legal and government services. My experience further solidified my commitment to working with and advocating for vulnerable communities in the future, especially low-income women and female migrants who are often left out of conversations regarding access to justice and gender equality.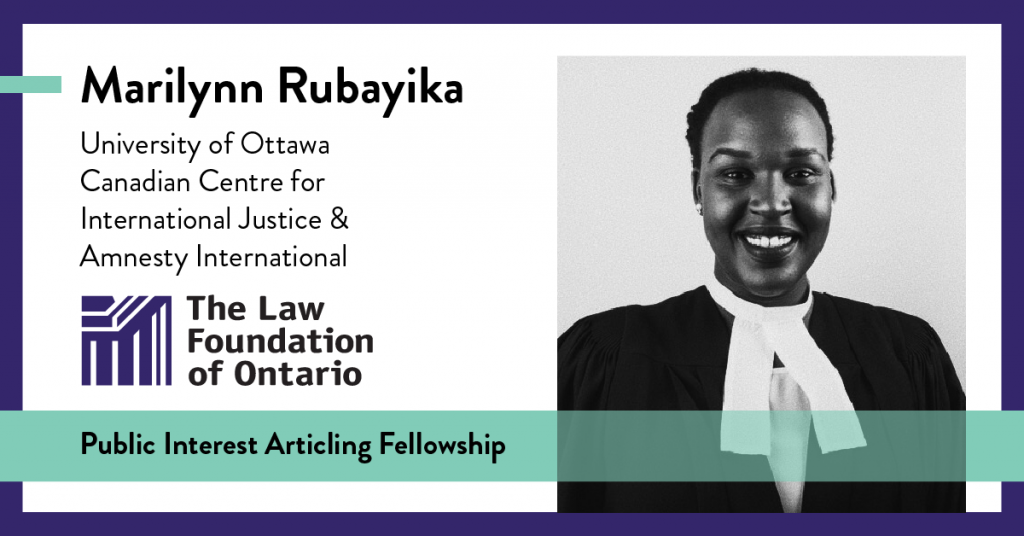 Public interest law is about human beings and the rights that are theirs … This fellowship allows those with such a passion to put their legal knowledge and personal abilities to work promoting, defending, and protecting such rights …. When asked to name a meaningful piece of work that I did during my articles, I rarely ever know where to start. The common thread in all my work has been to see that every single effort that I bring to the table – whether it leads to success now or helps build momentum for change at some later date – has or will have an impact. In some cases, it is as simple as bringing hope to someone in need. In others, my voice resonates at the decision-making tables where policy is set. This is what I went to law school for.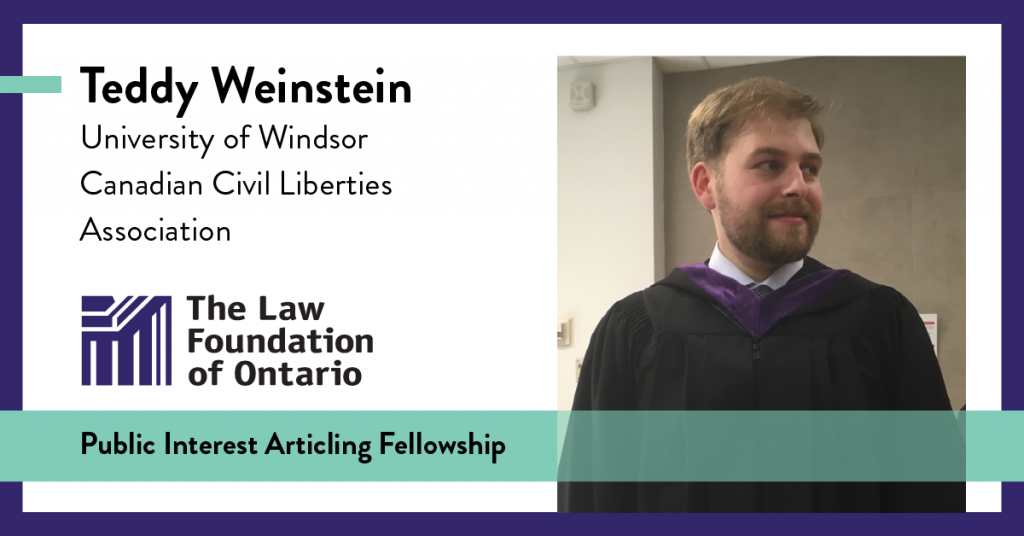 [The Canadian Civil Liberties Association] is built into the history of the Canadian civil liberties itself. Going to work at a place with such an august reputation as CCLA was intimidating. I wondered how I would be able to hold myself to the standard of the many articling students that had preceded me …. That apprehension evaporated once I arrived. The staff at CCLA were all approachable, kind, and focused on their mission …. The placement has shown me that public interest litigation can be a viable and rewarding career path. It gave me a chance to serve my community in a way that also allowed me to use my developing legal skills … It is not an experience that I will soon forget, and I believe it is foundational to my legal career.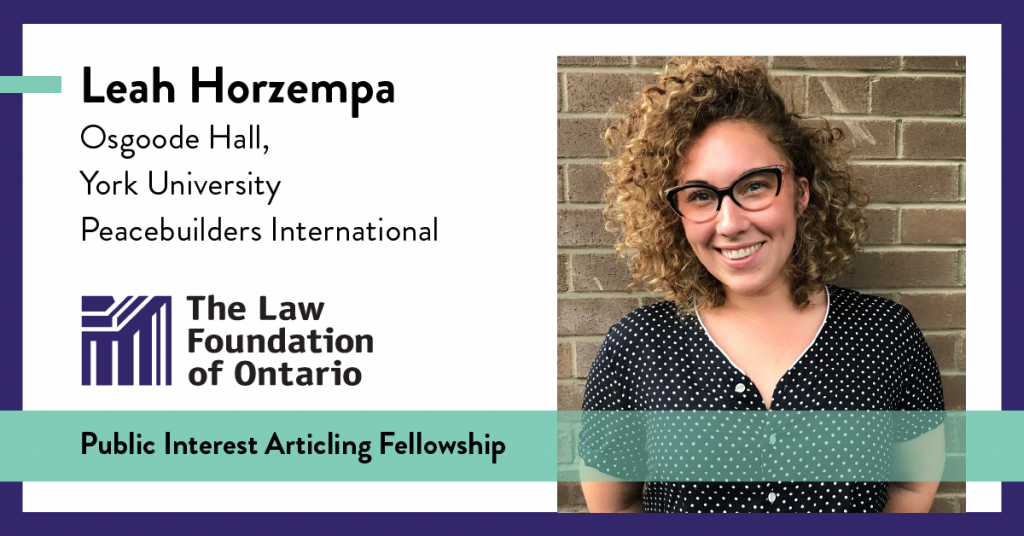 I was able to pursue a self-directed research project that related to the foundations of restorative justice. As an Indigenous articling student, it was crucial for me to understand the Indigenous law and knowledge underpinnings of the restorative justice work that Peacebuilders does, and to share that understanding with non-Indigenous practitioners of restorative justice …. I was given access to many platforms to speak about this research, including internally with the staff, and externally in high schools and universities. Through my support of the court-diversion program at Peacebuilders, I got to work directly with youth in conflict with the law, and support them on their journey through diversion. I learned so much from these youth, their parents, and the workers who support them, and I am incredibly grateful for the experience.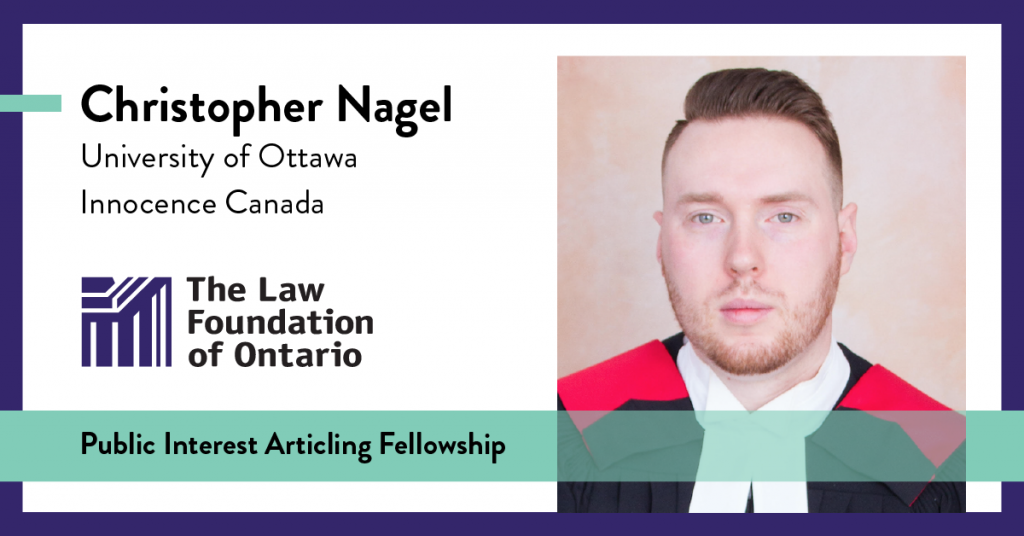 My greatest accomplishment during my articling period was assisting counsel draft a 696.1 Ministerial Review Application on behalf of an Indigenous applicant … One of the highlights of my articling period was attending Vancouver with senior counsel to provide legal support in arguing for the successful release of one of Innocence Canada's applicants who was convicted of second-degree murder following a Mr. Big Sting …. I have learned to appreciate the value in being an effective advocate for individuals whose lives have been negatively impacted by the criminal justice system. More importantly, I have had the chance to see the various ways in which a wrongful conviction may occur. By doing so, I believe this experience has provided myself with the necessary foundation to one day be an excellent criminal defence lawyer.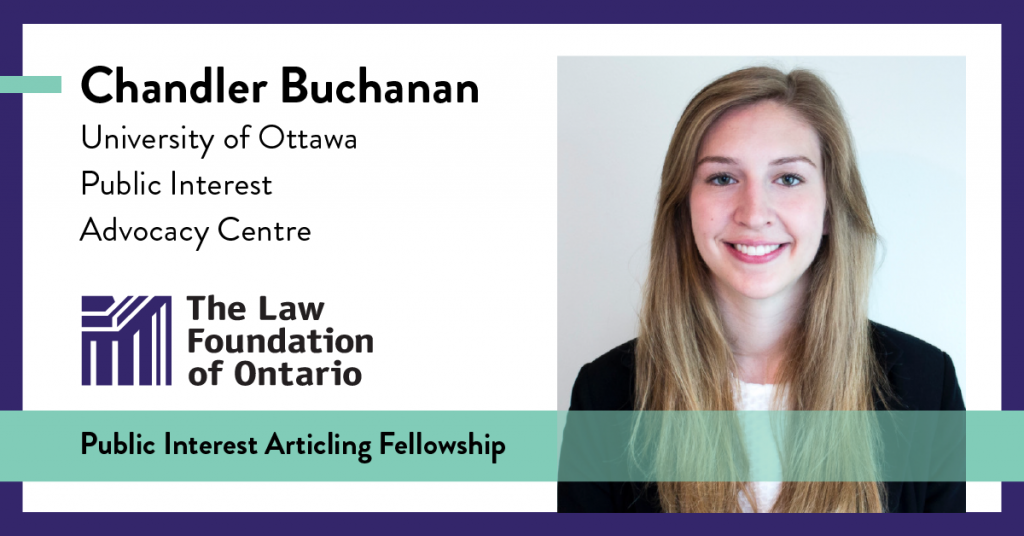 PIAC dedicates the majority of its efforts to representing the needs of low-income and senior citizens in telecommunications and broadcasting hearings before the CRTC …. When I arrived at PIAC … I began by helping organize a submission for the CRTC's hearing on Telecommunications Sales Practices. PIAC had created a coalition with the National Pensioners Federation (NPF), the Canadian Association for Retired Persons (CARP), and the Association of Community Organizations for Reform Now (ACORN), which made us the largest public interest coalition participating in the proceeding. In coordinating with these organizations and discussing the problems that their members faced in the telecommunications industry … I was able to learn how to advocate for, and structure a submission in a way that highlighted and focused on the issues faced by these groups.