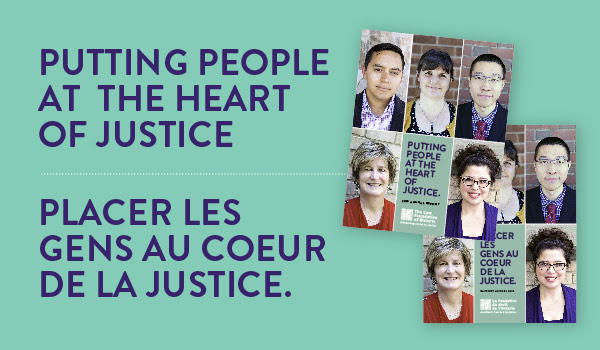 Putting people at the heart of justice. That's both our newly adopted vision statement and the theme of our 2015 annual report.
The report gives an overview of the Foundation's granting highlights, organized in the four broad areas in which we provide funding: public legal education and information; justice education; pro bono services; building the capacity of the nonprofit justice sector. Each section gives a brief overview of the granting area and why it's important. We also included highlights of some grants and service numbers to give some examples of how we're helping.
Putting people at the heart of justice also features stories about our grantees. Read the stories of Jenny, Jin, Thomas, and Julie and Jessica to see how they're helping the people they serve to deal with their legal issues.
Jenny advocates for young workers' rights at the Sudbury Workers Education and Advocacy Centre.
Jin helps people understand and prepare their family law cases through Pro Bono Students Canada.
Thomas delivers Level's Dare to Dream program and inspires youth to think differently about the justice sector.
And, Julie and Jessica combine their organizations' talents as LawConnect in order to provide more holistic public legal education and information services.
Of course, our annual report also contains a message from our Board Chair, financial highlights, our Guthrie Award and Community Leadership in Justice Fellowship recipients, the listing of 2015 grants made, and summaries of the Class Proceedings Fund and our national Access to Justice Fund.
Read the report now. Visit our annual report website or download a PDF of the full annual report here.