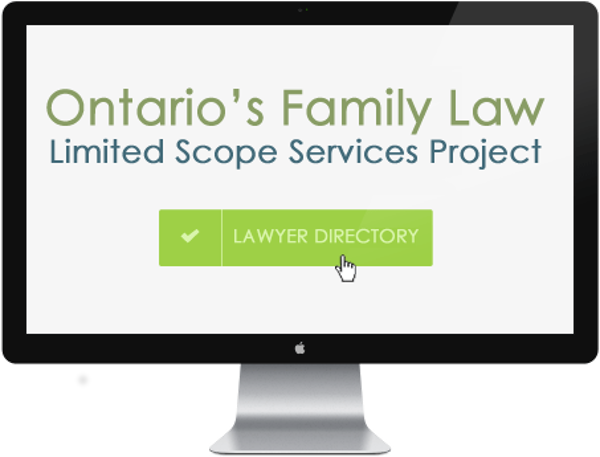 Ontarians dealing with a family law issue now have a new resource to find legal help.
The Ontario's Family Law Limited Scope Services Project is an unprecedented, private-bar driven collaboration that aims to improve access to justice for middle and lower income Ontarians by increasing the use of limited scope services. The project is made possible by a grant of $250K through The Law Foundation of Ontario's Access to Justice Fund.
Limited scope services are specific legal services that clients choose to hire a lawyer for. Clients and lawyers can work together to break down the legal matter into a list of discrete tasks and then divide those tasks, deciding which ones the lawyer will be hired to complete and which ones are the responsibility of the client. This approach gives people an option between full legal representation and no representation at all.
Depending on the lawyer, services can be provided in-person or virtually, such as via phone, email, and video conference. Limited scope services in family law cases include:
Limited scope retainers, such as court document drafting or in-court representation on a single appearance
Legal coaching, which is when lawyers assist clients by offering advice, guidance, and support
Summary legal counsel, which is when lawyers provide day-of-court assistance for a fee to unrepresented litigants not eligible for Legal Aid
The project's website, www.familylawlss.ca, houses the searchable directory of Ontario lawyers who are able and willing to offer family law limited scope services. It also offers information and resources for both clients and lawyers about limited scope services and how lawyers and clients can best work together using this approach.
Unprecedented collaboration
"The Board was pleased to support this project, in particular because it has so many exciting elements." said Linda Rothstein, the Foundation's Board Chair. "The participation of many private bar organizations, the courts, and a research and evaluation component looking at the impact of the project and ways to improve it going forward are all unprecedented and innovative in helping to tackle the urgent family law need."
The project's Advisory Committee is made up of members from the Ontario Bar Association Family Law Section; the Federation of Ontario Law Associations; the Association of Family and Conciliation Courts – Ontario Chapter; The Advocates' Society; the Family Lawyers Association; the Superior Court of Justice and Ontario Court of Justice; experts in non-traditional legal services delivery; and researchers.
The Principal Investigator is Dr. Rachel Birnbaum, Professor of Social Work at King's University College, Western, and the Legal Co-Investigator for the research is Prof. Nicholas Bala of the Faculty of Law at Queen's University.
The Chair of the Project's Steering Committee is Tami Moscoe, Senior Family Counsel at the Superior Court of Justice, and the Senior Program Director is Helena Birt, private family law practitioner. The Project team also consults with representatives from the Law Society, Law Pro, Legal Aid Ontario, and Community Legal Education Ontario (CLEO).
"While there is no single solution to the access to justice needs of people with family law issues, this project is a concrete and practical response to those needs." said Tanya Lee, the Foundation's CEO. "It tackles the critical issue of cost, leverages the expertise of family law lawyers, trains and supports them to provide different kinds of affordable legal help, and lets the public know that this help is available."