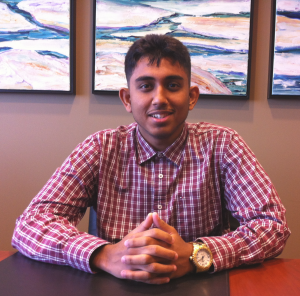 Tushar has wanted to be a lawyer since the fifth grade. And it's not just because he loves to argue, although that's part of it.
For the past four weeks, Tushar has been on a student work placement at The Law Foundation of Ontario through the Law in Action Within Schools (LAWS) program.
LAWS is an innovative partnership between the University of Toronto Faculty of Law, Osgoode Hall Law School and the Toronto District School Board. It's an immersive academic and extracurricular high school program for grades 10, 11 and 12. Think French immersion, but for justice and the law. In addition to the law-focused curriculum, the program includes field trips, workshops, mentorship programs and summer job placements. This gives students direct contact with lawyers, law professors, law students and other law and justice sector experts. It also lets them delve deeper into issues such as social justice, women's rights, aboriginal rights, family law, law enforcement, and more.
LAWS aims to support, guide and motivate students, especially those who face challenges with school, to successfully complete high school and move on to postsecondary education. These challenges can be a range of things, including low income or difficult personal or family situations.
The Law Foundation of Ontario provided the seed funding for LAWS and continues to be a primary funder of the program since its inception in 2006. The Foundation also supports the summer job program, enabling LAWS to offer summer placements for high school students at law-related public interest organizations, including legal aid clinics. The Foundation itself has hosted a student every summer since 2012.
Tushar goes to CW Jeffries high school in Toronto's Jane and Finch neighbourhood. He is just finishing his third and final year of the LAWS program. "I had never heard of anything like it. It's a blessing," he said.
In addition to The Law Foundation of Ontario and Brauti Thorning Zibarras LLP firm, Tushar spent one of his job placements at the Ford Motor Company. "I did marketing law there and it really caught my interest. You have to really look at things with a magnifying glass."
Tushar, and his parents, always planned for a postsecondary education, they just didn't know what it would be. Tushar credits the LAWS program with helping to ignite his passion and focus his career ambitions. "The LAWS program is very important to me. My life would have been a lot different without it," he said.
In September Tushar starts his next level of justice education. He is enrolled in political science at the University of Toronto. After that, Tushar plans to carry out the goal he set for himself in the fifth grade, continuing his studies at the university to become a lawyer.